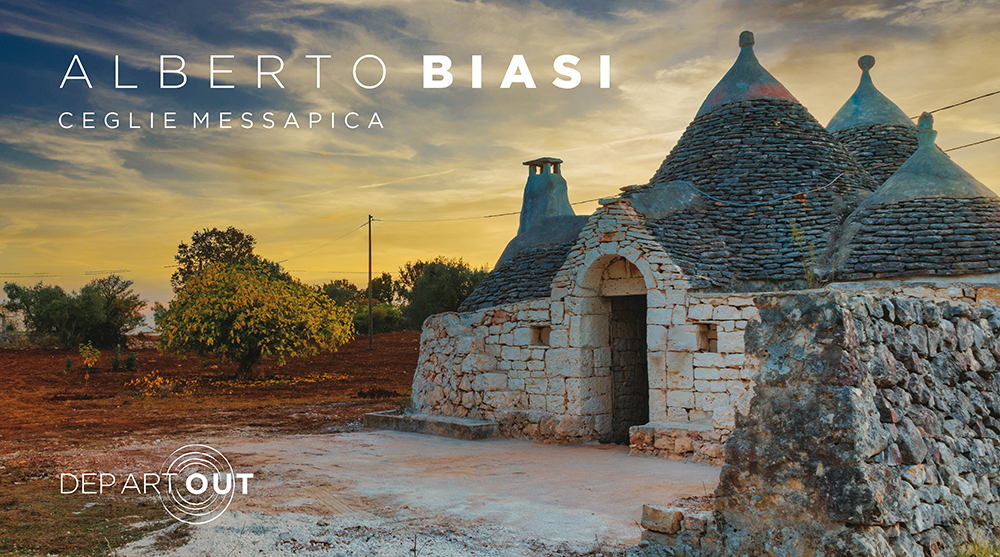 Dep Art Gallery apre una nuova sede con una mostra personale di Alberto Biasi, in un luogo non convenzionale, un palcoscenico alternativo, nella Valle d'Itria, in Puglia. Il Trullo, vera e propria icona della Puglia nel mondo, diventa una sede fuori dall'ordinario. Dep Art Gallery si spinge nelle campagne tra Ceglie Messapica e Martina Franca. Nasce così Dep Art Out.
Dep Art Out è un luogo dove l'arte si presenta in un modo diverso, con un nuovo sguardo e un nuovo panorama, per un'esperienza unica ed esclusiva.
Le Torsioni di Alberto Biasi si inseriscono in questo progetto in quanto rappresentano al meglio quel punto di incontro ideale tra le dinamiche architettoniche interne dei Trulli, che ruotano intorno ad un fulcro centrale, e il movimento visivo specifico delle Torsioni. Una presentazione che rompe lo schema della galleria per entrare in una realtà molto lontana dalla città e le sue dinamiche, per immergersi nell'arte a un ritmo diverso.
Nata all'inizio degli anni '60, l'arte Ottico-Cinetica ha rappresentato una svolta per l'arte contemporanea nel mondo: Alberto Biasi è stato uno dei fondatori e uno dei membri più illustri del celebre Gruppo N, che lo ha portato ad esporre in prestigiose sedi come il MoMA di New York, nel 1965, e la XXXII e XLII Biennale di Venezia.
La continua illusione, il movimento apparante, che caratterizzano le opere del Maestro sono la sintesi di un perpetuo rinnovamento, di una continua cesura con il passato, proiettando nel futuro una visione che sembra non fermarsi mai. Le Torsioni e i Rilievi Ottico-Dinamici sono collocati all'interno del Trullo, per creare un dialogo tra architettura tradizionale e arte contemporanea. Da questo incontro nasce un nuovo punto di vista, una nuova percezione che rappresenta lo spirito di Dep Art Out: sperimentazione in un palcoscenico non banale ma ricco di suggestione, dove gli artisti della galleria possono relazionarsi ad uno spazio non convenzionale.
LINK VIDEO YouTube Channel
Dep Art Gallery opens a new venue with a solo exhibition by Alberto Biasi in an unconventional location, a Trullo, an alternative stage, in Itria Valley, in Apulia, Southern Italy. A Trullo is a traditional dry-stone hut with a conical roof and has been recognised as a UNESCO World Heritage Site, becoming a true icon of Apulia in the world. Dep Art Gallery goes out into the countryside between Ceglie Messapica and Martina Franca. Dep Art Out is born.
Dep Art Out is a place where art lives in a out-of-the-ordinary way, with a new gaze and a new panorama, for a unique and exclusive experience.
Alberto Biasi's Torsions fit into this project as they best represent that ideal meeting point between the internal architectural dynamics of Trulli, which rotate around a central fulcrum, and the visual movement of this particular works of art. A presentation that breaks the schema of the gallery to enter a different reality, away from the city and its dynamics, to be immersed in art at a different rhythm.
Born at the very beginning of the 1960s, Op-Art represented a turning point for contemporary art worldwide: Alberto Biasi was one of the founders and member of the Padova-based "Group N", that led him to exhibit in prestigious venues such as the MoMA in New York, 1965, in addition to XXXII and XLII Venice Biennale.
The kinetic movement and the continuous illusion that characterize the master's works are the synthesis of a perpetual renewal, of a continuous caesura with the past: always projected into the future in a vision that never seems to stop. The Optical-Dynamic Reliefs and Torsions are placed inside the Trullo to create a dialogue between traditional architecture and contemporary art. From this encounter a new point of view is born, a new perception that represents the spirit of Dep Art Out: experimentation in a non-trivial stage but full of suggestion, where the artists of the gallery can relate to an unconventional space.