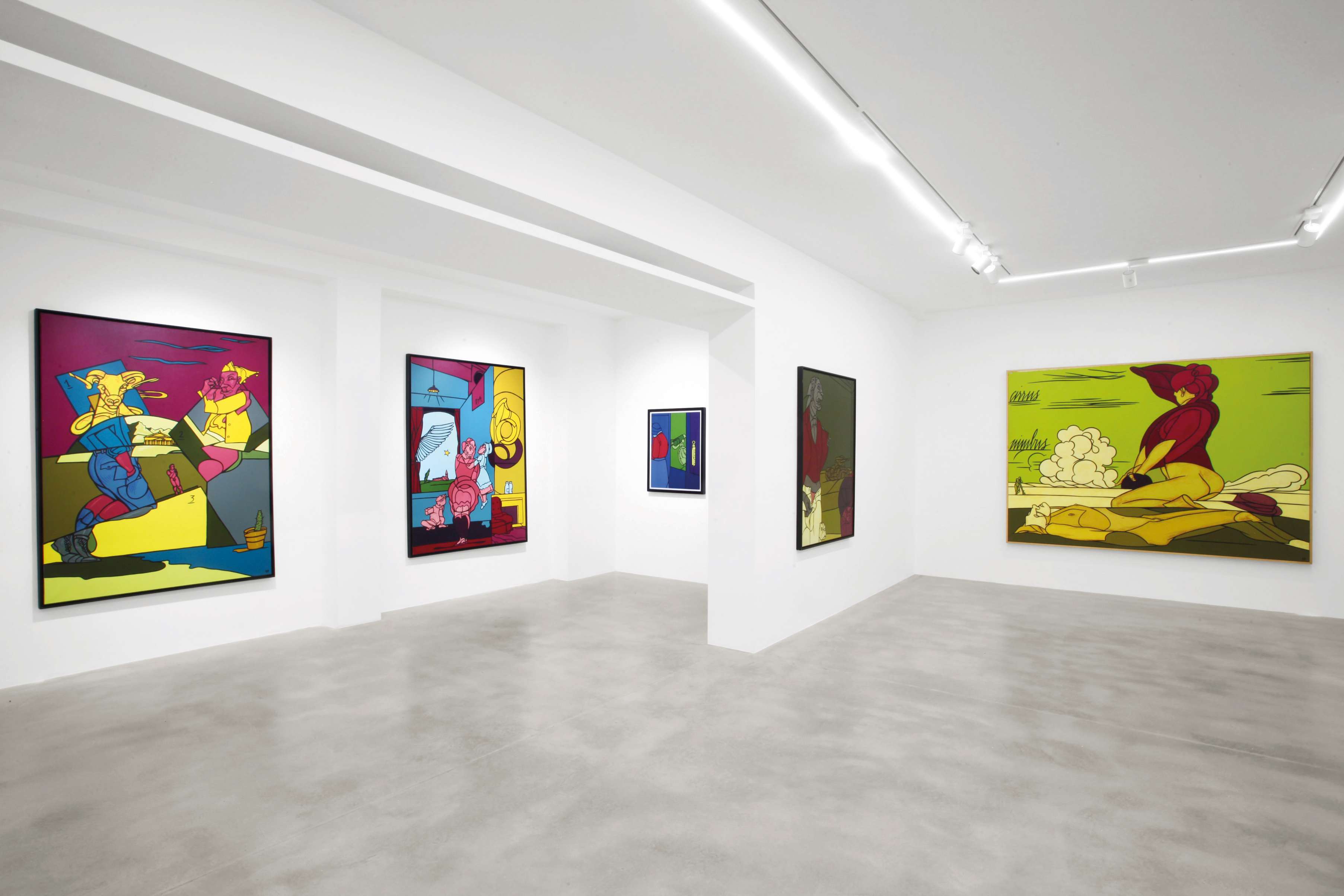 Valerio Adami
Immagine e pensiero
A cura di Gianluca Ranzi
1 febbraio – 14 aprile 2022
---
Dep Art Gallery di Milano inaugura la mostra "Valerio Adami – Immagine e pensiero", a cura di Gianluca Ranzi.
Attraverso 28 opere scelte fra tele recenti di grande formato e opere degli anni '70, la retrospettiva documenta la vitalità della ricerca visiva di un protagonista dell'arte italiana ed europea. La mostra include una selezione di opere, viaggi, ritratti, miti greci, rappresentative di diversi momenti della ricerca di Valerio Adami, attivo già dalla fine degli anni Cinquanta nell'ambito di quella vasta tendenza artistica denominata Nuova Figurazione che, sulle ceneri dell'Informale, trovò i suoi fulcri di elaborazione in Inghilterra e negli Stati Uniti, fino a farsi largo per tutta Europa assumendo articolazioni ed esiti diversi e talvolta persino contradditori.
La vicenda internazionale di quegli anni si ritrova nelle esperienze di Adami stesso, nato nel 1935 a Bologna, e oggi residente tra Parigi, sua città d'elezione e il Lago Maggiore. Diplomato all'Accademia di Brera nel 1955 e poi in viaggio attraverso l'Europa, gli Stati Uniti, l'America Latina e l'India, Adami unisce a questi stimoli la fascinazione per la pittura di Oskar Kokoschka e di Francis Bacon, del Surrealismo e di Giorgio De Chirico, attingendo all'ondata pop inglese e americana e sviluppando presto una sua originale figurazione sintetica e frammentata, giocata su campiture piatte, definite attraverso un segno-disegno tagliente. Così Adami "ritaglia" netti contorni neri senza chiaroscuro e, come un montatore cinematografico, inserisce nell'opera parole e sigle.
Secondo la definizione del filosofo Jacques Derrida sull'arte di Valerio Adami: "un viaggio del disegno" presiede il lavoro dell'artista, caratterizzato da quella tipica deflagrazione del pensiero nell'immagine, della parola nel disegno, e viceversa. Il titolo della mostra, Immagine e pensiero, fa riferimento a questa apertura alla contaminazione tra processi mentali e inconscio, con le immagini della vita quotidiana e della cultura alta e bassa, attraverso procedimenti fotografici e filmici. Lo si nota nelle opere in mostra, nelle lettere e nelle parole alla deriva sulla tela, nelle immagini dilatate, nelle tracce iconiche, nei transfert e nelle ripetizioni. L'integrità del rigore di Adami, ha saputo fare della fertile dispersione del suo linguaggio un momento imprescindibile dell'arte internazionale.
Valerio Adami
Immagine e pensiero
Curated by Gianluca Ranzi
February 1 - April 14, 2022
---
Dep Art Gallery in Milan opens the exhibition "Valerio Adami - Immagine e pensiero", curated by Gianluca Ranzi.
Through 28 works chosen from recent large canvases and works from the Seventies, this retrospective documents the vitality of the visual search carried out by a leading figure of Italian and European art.
The exhibition includes a selection of works, travels, portraits, Greek myths, belonging to different stages of Valerio Adami's research, who has been active since the late Fifties within that wide artistic trend called New Figuration (Nouvelle Figuration) which, on the ashes of Informal Art, developed in England and in the United States, and then spread all over Europe assuming different and sometimes even contradictory forms and outcomes.
The international scene of those years can be found in the experiences of Adami himself, who was born in 1935 in Bologna and now lives between Paris, his city of choice, and Lake Maggiore. Graduated from the Accademia di Brera in 1955 and then traveling through Europe, the United States, Latin America and India, Adami combines these influences with a fascination for the painting of Oskar Kokoschka and Francis Bacon, Surrealism and Giorgio De Chirico, drawing on the British and American Pop wave and soon developing an original synthetic and fragmented figuration, played on flat blocks of color defined by a sharp sign-drawing. In this way Adami "cuts out" sharp black outlines without chiaroscuro and, like a film editor, puts words and initials into the work.
According to philosopher Jacques Derrida's definition of Valerio Adami's art: "a journey of drawing" presides over the artist's work, characterized by that typical outburst of thought into image, of word into drawing, and vice versa. The title of the exhibition, Immagine e pensiero (Image and thought), refers to this openness to contamination between mental processes and the unconscious, with images of daily life and of high and low culture, through film and photographic procedures. This can be seen in the works exhibited, in the letters and words drifting on canvas, in the dilated images, in the iconic marks, in transfers and repetitions. Adami's integrity of rigor has turned the fertile dispersion of his language into an essential moment of international art.