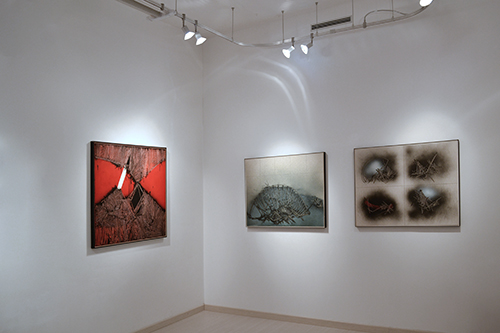 EMILIO SCANAVINO
Opere 1971-1986
A cura di Flaminio Gualdoni

17 febbraio – 14 aprile 2012
Inaugurazione venerdì 17 febbraio ore 18.00

Presentata in anteprima ad Arte Fiera Bologna, la mostra dedicata ad Emilio Scanavino prosegue a Milano presso gli spazi espositivi della galleria Dep Art.
La collezione, costruita nel corso degli anni, comprende circa venti di dipinti su tela e tavola presentati nel formato originale. Le opere scelte a rappresentare la seconda grande stagione di maturità di Emilio Scanavino ripercorrono quei momenti in cui il segno diventa anche gesto e interazione, trasposizione diretta della traccia unica del pensiero di un istante.
Sotto-sopra, Dall'alto, L'Appeso, Alfabeto senza fine, Storia in quattro tempi, sono solo alcuni dei temi intorno ai quali è stato possibile comporre il ritratto di un artista, artefice di una continuità della pittura come ricerca di immagine necessaria.
La mostra è accompagnata da un catalogo bilingue per le edizioni della galleria Dep Art, con testo di Flaminio Gualdoni.

Emilio Scanavino (nato a Genova il 28 febbraio 1922) si è imposto sino dagli anni Cinquanta come uno dei maggiori protagonisti dell'Arte Italiana. Le caratteristiche della sua pittura e in modo particolare il suo personalissimo segno si legano ed al tempo stesso si distinguono dall'informale di cui è stato un esponente di rilievo internazionale. Più volte presente alla Biennale di Venezia (1950, 1954, 1958) è invitato con sala personale nel 1960 e nel 1966 vince il premio Pinin Farina. Ha esposto nelle principali gallerie italiane e tenuto personali all'estero: a Londra, Parigi, Bruxelles, Copenhagen, Amburgo, Malmo, Filadelfia, ecc. Tra il 1973 e il 1974 gli vengono allestite tre importanti mostre antologiche: alla Kunsthalle di Darmstadt, a Palazzo Grassi a Venezia ,e a Palazzo Reale a Milano. Della sua opera hanno scritto i maggiori critici, alcuni come Jaguer, Ballo, Jouffroy, Crispolti, Sanesi, Russoli, G.M.Accame con volumi monografici. Dopo la sua scomparsa la città di Genova gli ha dedicato una importante antologica nel 1987, al Museo d'arte contemporanea di Villa Croce. Sulle opere degli anni Settanta si è tenuta nel 1988 una mostra al Castello Doria di Porto Venere e alla Galleria Civica di Modena, all'inizio del 1990, una rassegna sul periodo 1954-1962.
Muore a Milano il 28 novembre 1986.
EMILIO SCANAVINO
Works 1971 - 1986
Curated by Flaminio Gualdoni

17 February – 14 April 2012
Opening Friday, 17 February at 6:00 pm

Previewed at the Bologna Art Fair, the exhibition dedicated to Emilio Scanavino continues in Milan at the exhibition space of the Dep Art Gallery.
The collection, built over the years, includes approximately twenty paintings on canvas and board presented in the original format. The works chosen to represent Emilio Scanavino's second great period of maturity recount those moments in which sign becomes also gesture and interaction, the direct translation of the single trace of an instant's thought.
Sotto-sopra (Upside down), Dall'alto (From Above), Alfabeto senza fine (Endless Alphabet), Storia in quattro tempi (History in Four Times) are only some of the themes around which it was possible to compose the portrait of an artist, creator of the painting's continuity as a search for the necessary image.
The exhibition is accompanied by a bilingual catalogue for the editions of the Dep Art gallery, with text by Flaminio Gualdoni.

Emilio Scanavino (born in Genoa on 28 February 1922) became a protagonist in the Italian art scene back in the Fifties. The traits of his paintings, and especially his highly personal style, both provide a link to and distinguish themselves from the informal style, of which he was an internationally renowned exponent. Repeatedly present at the Venice Biennale (1950-1954-1958), he was invited with a personal room in 1960 and won the Pinin Farina Award in 1966. He exhibited in all of the leading Italian galleries and held personal shows abroad in London, Paris, Brussels, Copenhagen, Hamburg, Malmo, Philadelphia, etc. Between 1973 and 1974 three important anthologies were prepared for him at the Darmstadt Kunsthalle, Palazzo Grassi in Venice, and Palazzo Reale in Milan.
Major critics have written about his work, including monographic volumes by Jaguer, Ballo, Jouffroy, Crispolti, Sanesi, Russoli, and G. M. Accame. After his death, the city of Genoa dedicated an important anthology to him in 1987, at the Villa Croce Museum of Contemporary Art. A show was held in 1988 at Castle Doria in Porto Venere on his work from the Seventies, and at the Civic Gallery of Modena in early 1990 on his work from 1954 to 1962. He died in Milan on 28 November 1986.