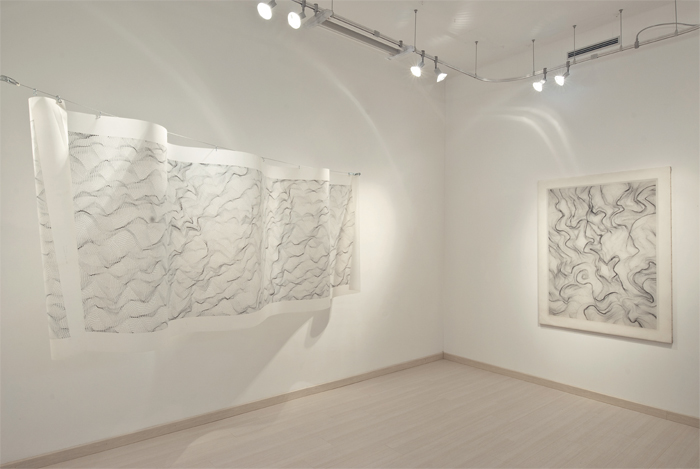 DADAMAINO
MOVIMENTO DELLE COSE
A cura di Alberto Zanchetta
18 Febbraio – 30 aprile 2011
Inaugurazione venerdì 18 febbraio ore 18.00

Attraverso una ventina di opere, di medio e grande formato, la galleria Dep Art di Milano rende omaggio alla figura e all'opera di Eduarda Emilia Maino (Milano, 1930-2004), in arte Dadamaino, eclettica protagonista del dopoguerra, vicina – già a partire dalla fine degli anni Cinquanta – al gruppo degli spazialisti italiani e alle gravide sperimentazioni di coevi movimenti internazionali. L'esposizione, curata da Alberto Zanchetta, mette a fuoco il ciclo del Movimento delle cose, un "macrocosmo" metafisico e rarefatto dove minutissimi tratteggi si aggregano e si disperdono in un andamento fisiologico e fluttuante. Nel suo peculiare excursus, partendo da un'iniziale unicità del gesto e da una poetica di sottrazione, Dadamaino passa ben presto ad un concetto di moltiplicazione e di affastellamento che, attraverso soluzioni e materiali sempre più innovativi, dà vita ad un ricco corpus incentrato sull'inconscio e sulla ricerca del segno. Fin dai primi Volumi,passando per gli Inconsci Razionali e gli Alfabeti della mente,sino ai più recenti Movimenti delle cose, emerge la prorompente capacità dell'artista di perpetuare in tutti i suoi lavori una raffinata leggerezza.
DADAMAINO
MOVIMENTO DELLE COSE
Curated by Alberto Zanchetta
18th February – 30th April 2011
Opening Friday 18th February at 6pm

With a selection of around twenty medium and large works, the Dep Art Gallery of Milan pays homage to Eduarda Emilia Maino (Milan, 1930-2004), known in art as Dadamaino, eclectic protagonist of the after war period, close - from the end of the Fifties - to the Italian Spazialismo group and the gravid experimentation of similar international movements. The exhibition, curated by Alberto Zanchetta, puts the Movimento delle cose cycle into sharp focus, a metaphysical and rarified "macrocosm" where tiny marks gather and disperse in fluctuating and physiological patterns. In her distinctive excursus, starting from an initial uniqueness of the gesture and from a poetical removal, Dadamaino soon moved on to a concept of multiplication and hoarding, which, through ever more innovative solutions and materials, gave life to a rich corpus centred on the subconscious and research into marks. From the first of the Volumi,then the Inconsci Razionali and Alfabeti della mente,to her more recent Movimenti delle cose, the artist's irrepressible ability to perpetuate a refined lightness in all her works shines out.