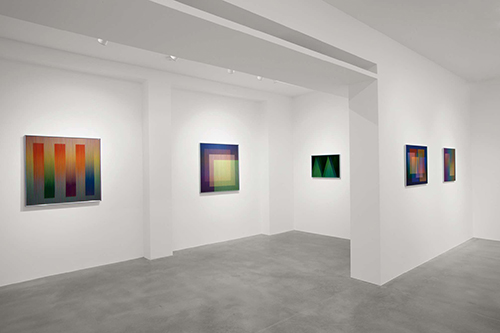 Carlos Cruz-Diez.
Colore come evento di spazi
con testo critico di Francesca Pola
9 ottobre 2019 - 21 gennaio 2020
Inaugura martedì 8 ottobre, ore 18.00
Si svolge alla Dep Art Gallery di Milano, a partire dal 9 ottobre, la prima mostra personale di Carlos Cruz-Diez dopo la sua recente scomparsa.
Fino al 21 gennaio 2020 la mostra "Carlos Cruz-Diez. Colore come evento di spazi" - realizzata in collaborazione con Articruz - ripercorre attraverso sedici grandi opere le fasi salienti del percorso dell'artista franco-venezuelano e ne mette in luce l'originalità della ricerca includendo lavori tratti da cinque delle sue serie più significative - Couleur Additive, Physichromie, Induction Chromatique, Chromointerférence, Couleur à l'Espace - oltre a uno spazio interattivo riadattato appositamente per la galleria milanese: Pyramide d'Interferences Chromatiques (2018).
Considerato tra i maggiori esponenti dell'arte cinetica e ottica, la sua opera lo ha portato ad affermarsi come uno dei principali pensatori del XX secolo nell'ambito del colore e a essere presente nei più prestigiosi musei del mondo come il MoMA Museum of Modern Art a New York, la Tate Modern a Londra, il Musée d'Art Moderne de la Ville de Paris e il Centre Georges Pompidou a Parigi, il Museum of Fine Arts a Houston, il Wallraf-Richartz Museum di Colonia.
Il titolo della mostra "Colore come evento di spazi" richiama il fondamento dell'opera di Cruz-Diez, che dagli anni Sessanta si è concentrata sull'indagine percettiva del colore non come elemento compositivo ma come accadimento reale.
Le opere della serie Couleur Additive, per esempio – presente in mostra con alcuni importanti lavori come Color Aditivo Yuruani (2017, cromografia su alluminio, 80x240 cm) – si basano sulla radiazione del colore: quando un colore tocca un altro, nel punto di contatto appare una linea verticale più scura. Questa linea virtuale contribuisce all'opera con un terzo colore che non è stato inserito dall'artista.
Il colore diventa oggetto di una ricerca ottico-cinetica declinata non unicamente sulla superficie visuale ma nello spazio fisico e concreto dell'esperienza sensoriale. Come ricorda Francesca Pola, autrice del testo in catalogo, già dal 1963, l'artista descrive in questa chiave le sue Physichromie (Fisicromie) che costituiscono uno dei nuclei principali della mostra: "Le Fisicromie, queste strutture cangianti che proiettano il colore della superficie nello spazio creando un'atmosfera che varia con l'intensità e la posizione della luce, con la posizione e la distanza dello spettatore, finalmente riuniscono tre modalità del colore che toccano stati emotivi quasi ossessivi: l'addizione, il riflesso, la sottrazione".
Ancora, Couleur à l'Espace – di cui in mostra si ammirano due opere – fa parte degli esperimenti, che dal 1959, Cruz-Diez ha condotto sul colore irradiato. Ponendo sulla superficie multicolore un'asta di metallo, emerge uno spettro di colori nuovi che l'osservatore può autonomamente "creare" e mutare muovendosi nello spazio e cambiando le condizioni di luce.
Sono queste coordinate a caratterizzare l'opera di Cruz-Diez dalla fine degli anni Cinquanta, in un contesto che lo vede attivo da subito in un dialogo serrato con le emergenti tendenze del cinetismo internazionale. Il suo lavoro si connota da subito per questo dinamismo luminoso del colore, in una continua vibrazione determinata dalle relazioni reciproche di addizioni e sottrazioni, riflessi e interferenze, saturazioni e proiezioni. Il colore non è per Cruz-Diez elemento compositivo o simbolico, quanto invece materia concreta che costituisce la possibilità di creare uno spazio emozionale autonomo, dove l'evento spaziale si materializza davanti ai nostri occhi e viene continuamente riconfigurato attraverso le nostre dinamiche percettivo-sensoriali. È un colore "in tempo reale" quello che gli interessa, e che con precisione scientifica egli modula e declina nella relazione percettivamente significante, e mai nella semplice giustapposizione decorativa.
Completa la mostra un catalogo bilingue, italiano ed inglese, con un testo critico di Francesca Pola.

Scarica il comunicato stampa
| | |
| --- | --- |
| Titolo: | Carlos Cruz-Diez. Colore come evento di spazi |
| A cura di: | Francesca Pola |
| Sede: | Galleria Dep Art, Via Comelico 40, 20135 Milano |
| Date: | 9 ottobre 2019 - 21 gennaio 2020 |
| Inaugurazione: | Martedì 8 ottobre, ore 18.00 |
| Orari: | da martedì a sabato ore 10.30-19.00 |
Carlos Cruz-Diez.
Colore come evento di spazi
critical essay by Francesca Pola
October 9, 2019 - January 21, 2020
Opening Tuesday October 8, 6:00 P.M.
The first solo exhibition of Carlos Cruz-Diez after his recent death is going to take place at Dep Art Gallery in Milan as from October 9.
Open until January 21, 2020 the exhibition "Carlos Cruz-Diez. Colore come evento di spazi" – in collaboration with Articruz – will trace the main steps of the Franco-Venezuelan artist's journey through sixteen great works, highlighting the originality of his research, with works from five of his most significant series – Couleur Additive, Physichromie, Induction Chromatique, Chromointerférence, Couleur à l'Espace – as well as an interactive artwork specifically adapted for the spaces of the Milanese gallery: Pyramide d'Interferences Chromatiques (2018).
Considered one of the main exponents of Kinetic and Op-Art, he established himself as one of 20th century leading thinkers in the field of colour, and his artworks are in the most prestigious museums of the world, such as MoMA Museum of Modern Art in New York, Tate Modern in London, Musée d'Art Moderne de la Ville de Paris and Centre Georges Pompidou in Paris, Museum of Fine Arts in Houston, and Wallraf-Richartz Museum in Cologne.
The title of the exhibition, "Colore come evento di spazi" (Color as an Event of Spaces), recalls the basis of the Cruz-Diez's research, focused, since the 1960s, on the perceptive investigation of colour seen not as the element of an artwork but as a real event.
For instance, the works of the Couleur Additive series – in the exhibition with some other important works such as Color Aditivo Yuruani (2017, chromography on aluminium, 80x240 cm) – are based on colour radiation: when one colour interacts with another one, a darker vertical line appears at the point of contact. This virtual line generates a third colour that has not been laid by the artist.
Colour becomes the subject of an optical-kinetic research declined not only on the visual surface but in the physical and concrete space of the sensory experience. As recalled by Francesca Pola, author of the catalogue essay, as early as 1963 the artist described his Physichromie – one of the main nuclei of the exhibition – according to this key: "The Physichromie – these changing structures projecting the colour of the surface in space, create an atmosphere that varies with the intensity and position of the light, with the position and distance of the viewer – bring together three modes of colour, touching almost obsessive emotional states: addition, reflection, subtraction."
Furthermore, Couleur à l'Espace - of which two works are exhibited here - is part of the experiments which Cruz-Diez made on the irradiated colour since 1959. By placing a metal rod on the multi-coloured surface, a spectrum of new colours emerges, then the observer can autonomously "create" and transform it by moving in space and changing the light conditions.
From the late 1950s, the work of Cruz-Diez was focused on these coordinates, in a context that sees him active in a close dialogue with the emerging trends of international kineticism. His work is immediately characterized by the bright dynamism of colour, in a continuous vibration determined by the mutual relations of addition and subtraction, reflexes and interferences, saturations and projections. For Cruz-Diez, colour is not a compositional or symbolic element, but rather a real matter that gives the possibility of creating an autonomous emotional space, where the spatial event materializes before our eyes and is continually reconfigured through our perceptive-sensory dynamics. What interests him is a colour "in real time", that he modulates and declines with scientific precision in the perceptively significant relationship, and never in the mere decorative juxtaposition.
The exhibition is completed by a catalogue in two languages - Italian and English - with a critical essay by Francesca Pola.

Download Press Release
| | |
| --- | --- |
| Title: | Carlos Cruz-Diez. Colore come evento di spazi |
| Curator: | Francesca Pola |
| Location: | Dep Art Gallery, Via Comelico 40, 20135 Milan |
| Dates: | October 9 2019 - January 21 2020 |
| Inauguration: | Tuesday October 8, at 6 PM |
| Hours: | Tuesday to Saturday, 10:30am – 7:00pm. |