Carlos CRUZ-DIEZ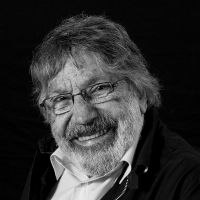 Carlos Cruz-Diez
Caracas 1923 - Parigi 2019
Carlos-Cruz Diez non deve essere considerato solo come uno dei principali esponenti dell'arte cinetica, ma anche come uno degli intellettuali più rigorosi nel campo del colore e della percezione. Il contributo più importante di Cruz-Diez risiede nel cogliere il vero senso del colore come un'entità autonoma e cangiante dove l'oggetto d'arte scompare a favore degli ambienti immersivi. In tal senso l'opera si compie solo con la presenza e il movimento dello spettatore, trasformando il pubblico da osservatore passivo a partecipante attivo.
Cruz-Diez studia alla Escuela de Artes Plásticas y Artes Aplicadas insieme a Jesús Soto e Alejandro Otero. I primi lavori derivano da fumetti e illustrazioni per riviste e giornali di Caracas e nel 1946 diventa direttore creativo della filiale venezuelana presso l'agenzia pubblicitaria McCann-Erickson. Affascinato dal procedimento di stampa, dove l'immagine è generata tramite una rete di punti colorati, nel 1947 tiene la sua prima mostra personale all'Istituto Venezuelano-Americano di Caracas, con opere che mostrano una forte influenza della sua formazione nell'illustrazione e nella pubblicità.
A metà del 1955, Cruz-Diez si trasferisce a Barcellona per un anno e mezzo, e durante questo periodo si reca per la prima volta a Parigi, visitando il suo collega venezuelano Jesús Soto tramite il quale vede la mostra Le Mouvement alla Galerie Denise Renè – annunciata all'unanimità da critici e storici dell'arte come l'inizio dell'Arte Cinetica.
Torna in Venezuela per fondare il suo studio di arti grafiche e design industriale nel 1957 e inizia una ricerca sulla proprietà della luce e sulla fenomenologia del colore che indagherà per tutta la sua lunga carriera. Sperimenta con strisce di colore trasparenti, intrecciate in sequenze regolari, in modo che il colore cambi continuamente.
Nel 1959 Cruz-Diez produce la sua prima opera Additive Color e inizia la serie delle Physichromies, che letteralmente significa "colore fisico", e lo presenta nella sua prima mostra personale al Museo de Bellas Artes de Caracas nel 1960. Per queste opere limita il colore al nero, al bianco, al verde e al rosso, comprendendo che questo non è qualcosa di definitivo, ma piuttosto che crea una trama cromatica che si rinnova e cambia costantemente a seconda del grado di interazione dello spettatore.
Nel 1960 si trasferirà definitivamente a Parigi, e lì inizia a sviluppare ulteriormente il suo lessico creativo, radicato nella sua teoria del colore e della luce.
Per esempio, le sue Chromointerferences sono piani stampati su cui colloca moduli trasparenti con lo stesso disegno lineare. Quando i moduli cromatici sul piano vengono mossi, generano colori che cambiano a seconda della distanza dello spettatore.
In seguito, partecipa a numerose mostre collettive, tra cui la seconda edizione di Mouvement che si teneva nel 1965 alla Galerie Denise René. Si afferma al livello internazionale con la partecipazione nello stesso anno alla celebre mostra The Responsive Eye, con l'opera Physichromie Number 116 (1964) realizzata con strisce di plastica e dipinta a tempera su cartone. La mostra, curata da William Seitz al Museum of Modern Art di New York, includeva soprattutto artisti americani ed europei, come Victor Vasarely, Josef Albers, Larry Bell, Ellsworth Kelly, Robert Irwin, Agnes Martin, Bridget Riley, Frank Stella e molti altri nomi noti. Provocò una frenesia mediatica e diede inizio a un interesse generale per il fenomeno dell'Optical e dell'arte cinetica.

Due linee di ricerca concomitanti che Cruz-Diez sviluppa a partire degli anni Sessanta sono state le serie di Environnement Chromointerférent e di Transchomie. Nel caso di Environnement Chromointerférent vengono proiettati linee verticali di diversi colori su pareti e oggetti, compreso sullo spettatore il quale con sposta le linee con il suo movimento, intensificando la sensazione e la creazione di colori "virtuali". Invece, la serie di Transchromies, la prima realizzata per l'ingresso della Torre Phelps a Caracas nel 1967, consiste in un gioco di fogli mobili sovrapposti, in cui il colore viene alterato in infinite combinazioni a seconda della prospettiva dello spettatore.
Con l'arrivo delle sue Chromosaturations a metà degli anni Sessanta, Cruz-Diez invade la terza dimensione e coinvolge lo spettatore come parte necessaria per la piena esperienza estetica. Presentate per la prima volta nel 1968 nell'ambito della mostra Cinetisme, organizzata dalla Maison de la Culture de Grenoble, queste grandi installazioni luminose si basano sull'idea che colorando lo spazio anziché la forma, lo spettatore può percepire il colore come una situazione fisica in evoluzione. Alla fine, le strutture architettoniche del colore – inizialmente separate da stretti passaggi di zone nere di transizione da un colore all'altro – servivano solo come supporto tecnico necessario per l'esperienza del colore.
Il ciclo della Chromosaturation è stato successivamente replicato per numerose e importanti lavori, soprattutto in Venezuela, così come in tutto il mondo. La sua prima opera pubblica è anche una delle sue più note, l'istallazione cromatica nel 1969 che colorava la fermata Odéon sul Boulevard Saint-Germain, Parigi. Come in tutte le sue serie, Cruz-Diez ha adattato le Chromosaturations a luoghi specifici e ha modificato la loro percezione, tanto che negli anni Settanta, ommette definitivamente le zone di transizione nere, creando uno scenario uniforme tra i colori che si intersecano tra di loro.
In questo contesto, tra gli esempi più riusciti di opere integrate in spazi urbani e in architettura, si citano: l'Additive Color Environment per l'aeroporto di Caracas in 1974; la commissione dell'enorme Chromatic Environment per la centrale idroelettrica di Guri in Venezuela, progetto al quale l'artista ha lavorato per quasi dieci anni, dal 1977 al 1986; la Physichromie per la sede del Banco Consolidado di Caracas tra il 1987 e 1988; e Chromatic Induction Seats create per l'Organizacion de Orquestras Juveniles nel 2007, sempre nella città natale dell'artista. I numerosi progetti in Venezuela hanno portato a Cruz-Diez ad un'enorme fama nel suo paese natale, che gli ha dedicato un museo a Caracas.
Oltre a questo, ha realizzato importanti progetti in tutto il mondo, tra i quali si notano in particolare una scultura Physichromie che segna il confine tra l'Andorra e la Spagna nel 1991; il suo intervento cromatico su una barca alla Biennale di Liverpool nel 2014; e i suoi famosi attraversamenti pedonali come a Boulogne-Billancourt nel 1995; o quello dello stadio di baseball Marlins a Miami nel 2011; o al Broad Museum di Los Angeles nel 2017.
Nel 1967 Cruz-Diez vince il premio internazionale di pittura alla IX Biennale di San Paolo e nel 1970 rappresenta il Venezuela alla XXXV Biennale di Venezia. Dopo l'importante mostra al MoMA del 1965, il suo lavoro è stato presentato in mostre personali in tutto il mondo, ad esempio alla Galerie Denise René ha esposto in totale diciannove volte tra Parigi e New York. Nel 2008 l'Americas Society di New York gli dedica un'importante mostra e un'ampia retrospettiva è stata presentata al Museum of Fine Arts di Houston (MFAH) nel 2012. Nello stesso anno la Francia lo premia con il grado di Ordre national de la Légion d'honneur.
Le sue opere sono ospitate in collezioni permanenti molto prestigiose: dal Museum of Modern Art di New York, alla Tate Modern e al Victoria and Albert Museum di Londra, fino al Centre Georges Pompidou di Parigi, il Museum of Fine Arts di Houston, e il Wallraf-Richartz Museum di Colonia.
Nel 2005 ha fondato la Cruz-Diez Art Foundation, con centri a Houston e Parigi, per promuovere l'eredità del suo lavoro e per fornire opportunità di ricerca e formazione continua.
Carlos Cruz-Diez
Caracas 1923 - Paris 2019
Carlos-Cruz Diez must not only be regarded as a leading practioner of Kinetic Art, but as one of the most rigorous intellectuals in the realm of color and perception. Cruz-Diez's most important contribution lies in grasping the true purpose of color as an autonomous and iridescent entity where the object of art is dematerialized in favor of immersive environments. His works are completed by the viewer's presence and engagement, changing the audience from passive spectators into active participants.
Cruz-Diez studied at the Escuela de Artes Plásticas y Artes Aplicadas alongside Jesús Soto and Alejandro Otero. He earns his first money with comic strips and illustrations for Caracas magazines and newspapers and in 1946 becomes the creative director at the Venezuelan branch of the advertising agency McCann-Erickson. Fascinated by the printing process, where continuous imagery is generated through layers of colored dots, in 1947, he holds his first solo exhibition at the Instituto Venezolano-Americano in Caracas, with works showing a strong influence of his training in magazine illustration and advertising.
In mid-1955, Cruz-Diez moved to Barcelona for a year and a half, and during this time he travels to Paris for the first time, visiting his fellow Venezuelan Jesús Soto through whom he sees the exhibition Le Mouvement at the Galerie Denise Renè – heralded by critics and art historians unanimously as the beginning of Kinetic Art.
He returns to Venezuela to set up his own graphic arts and industrial design studio in 1957. He begins to research the property of light and the phenomenology of color which he will relentlessly investigate his whole artistic creation. He experiments with transparent color strips, interwoven in regular sequences, so that color is continuously changing.
In 1959, Cruz-Diez produces his first Additive Color work and begins the series of Physichromies, translated as physical color, included in his first solo exhibition at the Museo de Bellas Artes de Caracas in 1960. For these works he limits color to black, white, green and red, understanding color not as something definitive, but rather that it creates a subtle chromatic mesh that is constantly renewed in relation to the degree to which the viewer is able to interact with it.
In 1960, he will permanently settle in Paris. There he begins to further develop his creative language, firmly grounded in his version of theory of color and light. For example, his Chromointerferences are printed patterns over which he places transparent modules with the same linear pattern. Moving the chromatic modules on the plane generate colors that change according to the distance of the viewer.
In the following, he participates in numerous group exhibitions, first and foremost the second edition of Mouvement in 1965, again hold in Galerie Denise René. He established himself at the international level with his participation in the same year in the famous exhibition The Responsive Eye, to which he contributes the work Physichromie Number 116 (1964), made with plastic strips and painted in tempera on cardboard. The exhibition, curated by William Seitz at the Museum of Modern Art in New York, included mainly American and European artists such as Victor Vasarely, Josef Albers, Larry Bell, Ellsworth Kelly, Robert Irwin, Agnes Martin, Bridget Riley, Frank Stella and many other well-known names. It provoked a media frenzy and aroused a general interest in the phenomenon of Op and Kinetic Art.
Two concomitant lines of research that Cruz-Diez developed from the 1960s onwards were the Environnement Chromointerférent and Transchomie series. In the case of Environnement Chromointerférent vertical lines of different colours are projected on walls and objects, including on the spectator who moves the lines with his movement, intensifying the sensation and the creation of "virtual" colours. Instead, the series of Transchromies, the first created for the entrance to the Phelps Tower in Caracas in 1967, consists of an interplay of superimposed mobile sheets, in which the color is substantially altered in the continual combinations and transparencies through which the viewer chooses to look.
With the arrival of his Chromosaturations in the mid-1960s, Cruz-Diez invades the third dimension and involves the spectator as a necessary part for the full aesthetic experience. First presented as part of the exhibition Cinetisme, organized by the Maison de la Culture de Grenoble, in 1968, these large-scale light installations rely on the idea that by coloring space instead of form – the spectator may perceive color as a physical situation evolving in space. In the end, the architectural structures of color, which were initially separated by narrow passages of black transitional zones from one color to another, are only the technical support for the experience of color.
The Comosaturation was replicated thereafter for numerous major site-specific commissions around Venezuela, as well as throughout the world. His first public exhibition is also one of his best-known; the chromatic installations in 1969 which illuminated Oéon station on the Boulevard Saint-Germain, Paris. As in all of his series, Cruz-Diez adapted the Chromosaturations to specific places and modified the user experience, so that in 1970s, the black transitional zones between the colors were omitted to create an fluent scenery between intersecting colors.
Within this context, among the most successful examples of works integrated in urban spaces and architecture, one can cite: the Additive Color Environment for the Caracas airport in 1974; the large commission of the enormous Chromatic Environment for the hydroelectric plant in Guri, Venezuela, a project on which the artist worked for almost ten years, from 1977-86; not to forgotten the Physichromie for the headquarters of the Banco Consolidado in Caracas between 1987-88; and the Chromatic Induction Seats created for the Organizacion de Orquestras Juveniles in 2007, also in the artist's native city The many public art projects in Venezuela brought Cruz-Diez enormous fame in his native country, which honored him with a museum in Caracas bearing his name.
Apart from this, he has carried out important projects all over the world, including a Physichromie sculpture marking the border between Andorra and Spain in 1991; a chromatic intervention on a boat at the Liverpool Biennial in 2014; and his famous crosswalks such as in Boulogne-Billancourt in 1995; or the Marlins baseball stadium in Miami in 2011; or the Broad Museum in Los Angeles in 2017.
In 1967, Cruz-Diez won the international painting prize at the 9th Biennale de São Paulo and in 1970s he represented Venezuela at the XXXV Venice Biennale in 1970. After the essential 1965 MoMA exhibition, his work was presented in solo exhibitions world-wide, for example the Galerie Denise René presented his work nineteen times between Paris and in New York. In 2008, the Americas Society in New York dedicated a major exhibition to him and an extensive retrospective was presented at the Museum of Fine Arts in Houston (MFAH) in 2012. In the same year France awarded him the rank of Ordre national de la Légion d'honneur.
His works are housed in very prestigious permanent collections: from the Museum of Modern Art in New York, over the Tate Modern and the Victoria and Albert Museum in London, to the Centre Georges Pompidou in Paris, the Museum of Fine Arts in Houston, and the Wallraf-Richartz Museum in Cologne.
In 2005 he founded the Cruz-Diez Art Foundation, with centres in Houston and Paris, to promote the legacy of his work and to provide opportunities for continued research and education.
Esposizioni personali / personal exhibitions
2019
Brasil, São Paulo, Espaço Cultural Porto Seguro, Cruz-Diez: a liberdade da cor​
Italy, Milano, Dep Art Gallery, Carlos Cruz-Diez. Colore come evento di spazi
France, Paris, Galerie Denise René, Carlos Cruz-Diez, hommage à couleur
Republic of Panama, Panama City, MAC, Cruz- Diez: El color haciéndose
Belgium, Brussels, galerie Valérie Bach, Labyrinthus. Carlos Cruz-Diez
South Korea, Gyeonggi-do Suwon Yeongtong-gu Route du parc du lac Gwanggyo 80, Color in space
United State, San Francisco, Meyerovich Gallery, Carlos Cruz-Diez. Color & Line
2018
Mexico, Mexico City, Galería RGR+ART,Carlos Cruz-Diez. La autonomía del color
Belgium, Antwerp, Phillips, Carlos Cruz-Diez. Luminous Reality
Spain, La Caridad, Complejo Cultural As Quintas, Efímeras
United Kingdom, London, Phillips,Carlos Cruz-Diez. Luminous Reality
Germany, Ingolstadt, Museum für Konkrete Kunst,Carlos Cruz-Diez. Color in Motion
Republic of Panama, Panama City, Marión Gallery, #CruzDiez95
2017
United States, Miami Beach, Ocean Drive & 13th Street, Chroma
Republic of Panama, Panama City, Marión Gallery, Cruz-Diez. A través del color
Republic of Panama, Panama City, Alianza Francesa, Cruz-Diez en blanco y negro. Fotografías de 1960 a 1966
China, Hong Kong, Puerta Roja Gallery,Carlos Cruz-Diez. Mastering Colour
United States, Savannah, SCAD Museum of Art, Chroma
United States, Houston, Sicardi Gallery, Carlos Cruz-Diez. Autonomía del color
Germany, Cologne, Galerie Boisserée, Carlos Cruz-Diez. Graphik (im Studio)
2016
France, Paris, Galerie Denise René Espace Marais,Carlos Cruz-Diez. Du statique au dynamique
France, Paris, Galerie Denise René Rive Gauche,Carlos Cruz-Diez. Du statique au dynamique
Spain, Madrid, Galeria Cayón, Cromointerferencia
France, Paris, Barnes International Realty, Carlos Cruz-Diez. Intégrations dans l'architecture
Spain, Madrid, Galería Cayón, Cruz-Diez
Venezuela, Caracas, La Caja, Centro Cultural Chacao, Efímeras
France, Paris, Galerie Mitterrand, Carlos Cruz-Diez. Un être flottant
2015
Venezuela, Caracas, Graphic Art, Carlos Cruz-Diez
United States, Miami, Espace Expression, Cruz-Diez. Bidimensional Research 1959-2015
Republic of Panama, Panama City, Marión Gallery, Cromointerferencias
Venezuela, Caracas, Galería Freites, Carlos Cruz-Diez vuelve a Caracas
Venezuela, Caracas, Museo de la Estampa y del Diseño, Carlos Cruz-Diez,Atrapando el Color
Principality of Monaco, Monaco, Marlborough Monaco, Carlos Cruz-Diez. Transfiguration de la couleur
United States, Houston, Sicardi Gallery, Carlos Cruz-Diez. A Chromatic Condition
Venezuela,Caracas, Galería de Arte de la Biblioteca, Universidad Simón Bolívar, Didáctica y dialéctica del color
United States, New York, Maxwell Davidson Gallery, Chromatic Transfiguration
Germany, Weissenstadt, Das Kleine Museum, Carlos Cruz-Diez. Didaktik und Dialektik der Farbe
2014
United States, New York, Americas Society/Council of the Americas,Within the Light Trap. Cruz-Diez in Black and White
France, Paris, Maison de l'Amérique latine, Cruz-Diez en noir et blanc. Photographies de 1943 à 1975
Venezuela, Caracas, Hacienda La Trinidad, Cruz-Diez. Didáctica y dialéctica del color
Argentina, Buenos Aires, Museo de Arte Contemporáneo Buenos Aires (MACBA), Cruz-Diez en blanco y negro. Fotografías 1942-1986
United States, Los Angeles, Louis Stern Fine Arts, Carlos Cruz-Diez. Evolving Color
France, Paris, Galerie Gimpel & Müller,Carlos Cruz-Diez. RVB - les couleurs du siècle
Brazil, Rio de Janeiro, Casa Daros, Didática e Dialética da Cor
China, Hong Kong, Hong Kong University Museum and Art Gallery, Carlos Cruz-Diez. Circumstance and Ambiguity of Color
Brazil, Rio de Janeiro, Galeria de Arte Ipanema, Cruz-Diez. Um olhar sobre a cor
France, Aix-en- Provence, Fondation Vasarely, Carlos Cruz-Diez. Circonstance et Ambiguïté de la Couleur
Spain, Avilés, Centro Niemeyer, Cruz-Diez. Color espacial
2013
Republic of Panama, Panama City, Marión Gallery, Cruz-Díez. Inducciones cromáticas y colores aditivos
Venezuela, Caracas, Hotel Tamanaco, Cruz-Diez en blanco y negro. Fotografías 1942-1986
Venezuela, Caracas, Museo de la Estampa y del Diseño, Carlos Cruz-Diez,Cruz-Diez. Edición Editorial. Anteportadas e ilustraciones, 1948-2009
United States, New York, Maxwell Davidson Gallery, Carlos Cruz-Diez. Circumstance and Ambiguity of Color
Venezuela, Caracas, Fundación BBVA Provincial, Cruz-Diez en blanco y negro. Fotografías 1942-1986
France, Paris, Galerie Denise René - Rive Gauche, Cruz-Diez. L'ambiguïté de la couleur
China, Beijing, Central Academy of Fine Arts (CAFA), Carlos Cruz-Diez. Circumstance and Ambiguity of Color
China, Fudan (Shanghai), Shanghai Institute of Visual Art (SIVA),Carlos Cruz-Diez. Circumstance and Ambiguity of Color
Republic of Panama, Panama City, Marión Gallery, Cruz-Diez. 90 años de color
Spain, Madrid, Galería Cayón, Cruz-Diez. 90 años
China, Hangzhou, China Academy of Art, Carlos Cruz-Diez. Circumstance and Ambiguity of Color
2012
Peru,Lima, Enlace Arte Contemporáneo, Carlos Cruz-Diez. Circunstancia y ambigüedad del color
China, Nanjing, Jiangsu Art Museum, Carlos Cruz-Diez. Circumstance and Ambiguity of Color
United States, Houston, Sicardi Gallery, Carlos Cruz-Diez
China, Ningbo, Ningbo Museum of Art, Carlos Cruz-Diez. Circumstance and Ambiguity of Color
Brazil, São Paulo, Galeria Raquel Arnaud, Carlos Cruz-Diez. Circunstância e Ambiguidade da Cor
China, Zhengzhou, Henan Art Museum ,Carlos Cruz-Diez. Circumstance and Ambiguity of Color
France, Paris, Le Musée en Herbe, RVB
South Korea, Jeonbuk, Jeonbuk Province Museum of Art, Cruz-Diez. Color in Space
Brazil, São Paulo, Pinacoteca do Estado, Cruz-Diez. A cor no espaço e no tempo
Brazil, São Paulo, Galeria Raquel Arnaud, Carlos Cruz-Diez
Mexico, Mexico City, Museo Universitario Arte Contemporáneo (MUAC), Carlos Cruz-Diez. El color en el espacio y en el tiempo
Venezuela, Caracas, Museo de la Estampa y del Diseño, Espacio Cruz-Diez. Edición afiches
2011
Venezuela, Caracas, Museo de la Estampa y del Diseño, Carlos Cruz-Diez, Cuatro décadas influyentes del cartel
United States, Houston, Museum of Fine Arts (MFAH), Carlos Cruz-Diez. Color in Space and Time
South Korea, Seoul, Lotte Department Store*Gallery Banditrazos, Cruz-Diez
Colombia, Bogotá, Galería La Cometa,Cruz-Diez. Circunstancia y Ambigüedad del Color
Spain, Madrid, Galería Cayón, Cruz-Diez. Cuestionamiento a lo Bidimensional
South Korea, Seoul, Dream Forest Arts Center, Sang Sang Tok Tok Gallery, Cruz-Diez. Color in Space
France, Paris, Espace Meyer Zafra, Carlos Cruz-Diez. OEuvres 1964/2005
Argentina, Buenos Aires, Museo de Arte Latinoamericano de Buenos Aires (MALBA) - Fundación Costantini, Carlos Cruz-Diez. El color en el espacio y en el tiempo
Switzerland, Basel, Atelier Editions Fanal, Espace Fanal, Carlos Cruz-Diez
2010
China, Guangzhou (Canton), Guangdong Museum of Art, Environment Chromatic-Interferences. Interactive Space by Carlos Cruz-Diez
Brazil, Rio de Janeiro, Galeria de Arte Ipanema, Cruz-Diez. O Instável da Cor
United States, Miami, Miami Art Museum, Carlos Cruz-Diez. The Embodied Experience of Color
Republic of Panama, Panama City, Marión Gallery, Carlos Cruz-Diez. El color una circunstancia espacial y temporal
Venezuela,Caracas, Universidad Simón Bolívar, Galería de Arte de la Biblioteca,Didáctica y dialéctica del color
France,Paris, Galerie Denise René - Espace Marais,Cruz-Diez. Circonstance et Ambiguïté de la couleur
2009
Spain, Cuenca, Museo de Arte Abstracto Español, Carlos Cruz-Diez. El color sucede
France, Paris, Galerie Lavignes Bastille, Carlos Cruz-Diez. 50 ans de recherche
Spain, Palma de Mallorca, Museu d'Art Espanyol Contemporani, Carlos Cruz-Diez. El color sucede
United Kingdom, London, Mayor Gallery, Carlos Cruz-Diez. Colour in the Making
Venezuela, Caracas, Periférico Caracas Arte Contemporáneo, Carlos Cruz-Diez. La experiencia sensorial del color
2008
Germany, Frankfurt, Consulate General of Venezuela, De lo participativo a lo interactivo
Venezuela,Caracas, Museo de la Estampa y del Diseño Carlos Cruz-Diez, Carlos Cruz-Diez. Obra Urbana
Mexico, Mexico City, Galería Pablo Goebel Fine Arts, Cruz-Diez
France, Marcigny, Centre d'Art Contemporain Frank Popper, Carlos Cruz-Diez. La couleur dans l'espace
United States, New York, Americas Society/Council of the Americas, Carlos Cruz-Diez. (In)Formed by Color
Spain, Madrid, Galería Cayón, Cruz-Diez
Germany, Düsseldorf, Galerie Bernd A. Lausberg, Carlos Cruz-Diez. Farbe im Wandel
2007
France, Paris, Galerie Denise René Rive Gauche, Carte blanche à Cruz-Diez
United States, Houston, Sicardi Gallery, Carlos Cruz-Diez
Brazil, São Paulo, Gabinete de Arte Raquel Arnaud, Cruz-Diez. A Cor No Espaço
France, Paris, Maison de l'Amérique latine, Cruz-Diez. La couleur dans l'espace
2006
Germany, Ettlingen, Galerie Emilia Suciu, Carlos Cruz-Diez. Farbe im Raum. Kleinformate und Multiples
France, Paris, Espace Meyer Zafra, Hommage à Cruz-Diez
Venezuela, Puerto Ordaz, Ecomuseo del Caroní, Carlos Cruz-Diez. Obra Urbana
Venezuela, Caracas, Fundación Previsora Galería, Carlos Cruz-Diez. La vida en el color
Germany, Sulzburg, Galerie Konkret Martin Wörn, Carlos Cruz-Diez. Die Farbe im Raum
Venezuela, Caracas, Sala Trasnocho Arte Contacto, 50x50. Carlos Cruz-Diez
Venezuela, Caracas, Museo de la Estampa y del Diseño Carlos Cruz-Diez, Afiches de Carlos Cruz-Diez
Venezuela, Cumaná, Museo de Arte Contemporáneo de Cumaná, Carlos Cruz-Diez. Obra Urbana
2005
Venezuela, Caracas, Museo de la Estampa y del Diseño Carlos Cruz-Diez,Carlos Cruz-Diez. Obra Urbana
France, Paris, Galerie Lavignes Bastille, Carlos Cruz-Diez. Petits Formats/ Editions/Multiples
France, Paris, Galerie Denise René - Espace Marais, Cruz-Diez. La couleur dans l'espace
United States, Houston, Sicardi Gallery, Carlos Cruz-Diez. Interactive Random Chromatic Experience
2004
Spain, Madrid, Marci Gaymu - Artint'l Galería, Carlos Cruz-Diez. De lo manipulable a lo interactivo
France, Paris, Galerie Lavignes Bastille, Cruz-Diez. Couleur Événement
France, Aigues-Mortes, Chapelle des Capucins, Carlos Cruz-Diez. Couleur Événement
Venezuela, Caracas, Museo de la Estampa y del Diseño Carlos Cruz-Diez, Cruz-Diez. Arte en Guri
United Kingdom, London, Tambo Gallery, Carlos Cruz-Diez. Another Notion About Colour
Venezuela, Caracas,Centro de Arte La Estancia, Cruz-Diez. Afiches. Colección del Museo de la Estampa y del Diseño Carlos Cruz-Diez
2003
Switzerland, Basel, Atelier Editions Fanal, Espace Fanal, Carlos Cruz-Diez
Venezuela, Caracas, Museo de la Estampa y del Diseño Carlos Cruz-Diez, Cruz-Diez. Afiches. Exposición Homenaje a los 80 años de Carlos Cruz-Diez
Spain, Valencia, l'Almodí, Carlos Cruz-Diez. De lo participativo a lo interactivo. Otra noción del color
2002
Venezuela, Maracaibo, Museo Municipal de Artes Gráficas, Líneas y color en movimiento
France, Créteil, Galerie d'Art de Créteil, Carlos Cruz-Diez. Expérience chromatique aléatoire. De l'oeuvre manipulable à l'oeuvre interactive. 1954-2002
France, Paris, Galerie Lavignes Bastille, Carlos Cruz-Diez
2001
Venezuela, Caracas, Fundación Corp Group Centro Cultural, Cruz-Diez. De lo participativo a lo interactivo
2000
France, Salies-de-Béarn, Galerie 17, Cruz-Diez
France, Vernet-la-Varenne, Centre Culturel du Château de Montfort, Cruz-Diez. La couleur en mutation
Venezuela,Barquisimeto, Sala Juan Carmona, Fundación Carmona, Cruz-Diez. La visión del color
Switzerland, Basel, Espace Fanal, Atelier Editions Fanal,Carlos Cruz-Diez. Originaux Multiples
Venezuela, Caracas, Galería Dimaca,Cruz-Diez. Acontecimientos Cromáticos
Germany, Düsseldorf, Galerie Schöeller,Carlos Cruz-Diez. Rouge, Vert, Bleu. Les couleurs du siècle
1999
Venezuela, Maracaibo, Museo de Arte Moderno del Zulia,Retrospectiva 1954-1998
Venezuela, Maracaibo, Art Nouveau Galería,Cruz-Diez. Ediciones. La Obra Múltiple
United States, Miami, Durban Segnini Gallery,Chromatic Encounter. Carlos Cruz-Diez
Cuba, Havana, Casa de las Américas, Galería Latinoamericana,El rojo el verde y el azul entre la luz y las tinieblas
1998
Colombia, Barranquilla, Salón Cultural Avianca, Cruz-Diez. El color autónomo
Germany, Gelsenkirchen-Buer, Städtisches Museum Gelsenkirchen, Carlos Cruz-Diez "...und gebe dem Raum die Farbe"
Venezuela, Caracas, Museo de la Estampa y del Diseño Carlos Cruz-Diez, Carlos Cruz-Diez. Un pionero del diseño en Venezuela. De la empresa familiar a la invención de la fisicromía. 1923-1959
Venezuela, Caracas, Sala de Exposiciones de PDV, Deltaven, Carlos Cruz-Diez. Homenaje al Maestro Carlos Cruz-Diez
Venezuela, Bolivar, Sala Múltiple, Museo de Arte Moderno Jesús Soto, Carlos Cruz-Diez
Venezuela, Guayana, Sala de Arte Sidor, Carlos Cruz-Diez. El Arte en la Arquitectura
Colombia, Bogotá, Museo de Arte Moderno, Cruz-Diez. El color autónomo
1997
Venezuela, Valencia, Centro Cultural Eladio Alemán Sucre, Cruz-Diez. Cruz-Diez. Arte en el hábitat y el espacio público
Venezuela, Maracaibo, Art Nouveau Galería, Carlos Cruz-Diez. La visión del color
1996
Germany, Mainz, Bergner+Job Galerie (Große Bleiche), Carlos Cruz-Diez, Paris/Caracas.Bilder, Objekte
Germany, Düsseldorf, Galerie Schöeller, Carlos Cruz-Diez. Physichromien
Brazil, São Paulo, Gabinete de Arte Raquel Arnaud, Cruz-Diez. Phisicromia. Induções Cromática. Cromovelas
Venezuela, Caracas, Grupo Li Centro de Arte, Cruz-Diez. El cromático acontecer
Brazil, São Paulo, Morumbi Shopping, Experiences Chromatiques. Aléatoire Impératif
1995
Venezuela, Caracas, Museo Jacobo Borges,Reflexión sobre el color
Norway, Oslo, Centre Culturel Français, Cruz-Diez
Venezuela,Mérida, Galería La Otra Banda (Universidad de Los Andes), Carlos Cruz-Diez. El color haciéndose
Germany, Kaiserslautern, Galerie Wack, Carlos Cruz-Diez
1994
Venezuela, Caracas, Graphic CB2, Carlos Cruz-Diez. Color en Mutación
Santo Domingo, Plaza de la Cultura Juan Pablo Duarte, Museo de Arte Moderno, Carlos Cruz-Diez. Metamorfosis de lo efímero. Paneles pictóricos y laberinto sensorial
France, Paris, Galerie Denise René Rive Gauche, Cruz-Diez. OEuvres récentes
France, Paris, Galerie Denise René Espace Marais, Cruz-Diez. Rétrospective. OEuvres de 1954 à 1990
1993
Venezuela, Caicara, Alcaldía, Didáctica y dialéctica del color
United Kingdom, London, Venezuelan Embassy, Bolívar Hall, Cruz-Diez. Colours Vision
Venezuela, Puerto Ayacucho, Didáctica y dialéctica del color
Venezuela, Puerto Ordaz, Sala de Arte del Sur E.A.P., Cruz-Diez. Mutación Continua
Italy, Milan, Galleria Vismara Arte, Cruz-Diez. L'avvenimento-colore
Venezuela, Estado Apure, Escuela de Artes Plásticas,Didáctica y dialéctica del color
Venezuela, Estado Guarico, Didáctica y dialéctica del color
Venezuela, Caracas, B.P. Raúl Leoni, Didáctica y dialéctica del color
Germany, Mannheim, Galerie Lauter, Carlos Cruz-Diez. Arbeiten aus den jahren 1973-1993
Venezuela, Ciudad Ojeda, Casa de la Cultura, Didáctica y dialéctica del color
Venezuela, Tovar, Consejo Nacional de la Cultura (CONAC), Cruz-Diez. 30 años de gráficas
Venezuela, Mérida, Galería de Arte Juan Alí Méndez, Centro de Animación y Orientación Cultural, Consejo Nacional de la Cultura (CONAC), 30 Años de Gráficas de Cruz-Diez
Venezuela, Caracas, B.P.C. Simón Bolívar, Didáctica y dialéctica del color
United Kingdom, Cambridge, Cambridge University, Clare Hall Gallery, Cruz-Diez. Colours Vision
Venezuela, Valencia, Espacio Simonetti, Cruz-Diez. 35 Años de Obra Gráfica
Venezuela, Caracas, Museo de Bellas Artes, Apuntes sobre el Color
Italy, Turin, Galleria d'arte NARCISO, Cruz-Diez. L'avvenimento-colore
Venezuela, Caracas, B.P.C. Simón Bolívar, Didáctica y dialéctica del color
1992
Venezuela, Tucupita, Galería Noti-Diario, Didáctica y dialéctica del color
Venezuela, Caicara, Sala Alcaldía, Didáctica y dialéctica del color
Italy, Venice, Galleria Verifica 8+1, Carlos Cruz-Diez
Venezuela, Ciudad Bolívar, Casa Congreso de Angostura,Didáctica y dialéctica del color
Venezuela, Carúpano, Ateneo, Didáctica y dialéctica del color
Venezuela, Caripito, Casa de la Cultura, Didáctica y dialéctica del color
Venezuela, Cariaco, Galería de la Cultura, Didáctica y dialéctica del color
Venezuela, El Tigre, Complejo Cultural Rómulo Gallegos, Didáctica y dialéctica del color
Venezuela, Barcelona, Museo de Barcelona, Didáctica y dialéctica del color
Venezuela, Tacarigua, Galería de la Cultura,Didáctica y dialéctica del color
Venezuela, Maracay, Museo de Arte de Maracay, Carlos Cruz-Diez. La visión del color
Venezuela, Maturín, Galería del Instituto de Cultura, Didáctica y dialéctica del color
Venezuela, La Asunción, Galería de la Cultura, Didáctica y dialéctica del color
1991
Venezuela, Guanare, Didáctica y dialéctica del color
Venezuela, El Tocuyo, Didáctica y dialéctica del color
Venezuela, Barinitas, Didáctica y dialéctica del color
Venezuela, Barinas, Museo Alberto Arvelo Torrealba, Didáctica y dialéctica del color
Venezuela,Valencia, Espacio Simonetti, Centro de Arte Contemporáneo, Cruz-Diez. Inducciones Cromáticas
Venezuela, San Felipe, Didáctica y dialéctica del color
Venezuela, Boconó, Didáctica y dialéctica del color
Venezuela, Valencia, Galería Lozano y Lozada, Didáctica y dialéctica del color
Venezuela, La Grita, Casa de la Cultura,Didáctica y dialéctica del color
Venezuela, San Cristóbal, Didáctica y dialéctica del color
Venezuela, Caracas, Consejo Nacional de La Cultura (Conac), Didáctica y dialéctica del color
Venezuela, Escuque, Didáctica y dialéctica del color
Costa Rica, San José, Museo de Arte Costarricense y Galería Nacional de Arte Contemporáneo, Cruz-Diez. Color-Acontecimiento
Germany, Otterndorf, Museum Moderner Kunst Landkreis Cuxhaven (Studio A*Sammlung Zeitgenössischer Kunst), Carlos Cruz-Diez. Couleurs Additives. Sowie Ankäufe aus den Jahren 1987-1990
Venezuela, San Carlos, Didáctica y dialéctica del color
Venezuela, Barquisimeto, Didáctica y dialéctica del color
Venezuela, Trujillo, Didáctica y dialéctica del color
Venezuela, Mérida, Alianza Francesa, Didáctica y dialéctica del color
Venezuela, Mérida, Galería La Otra Banda (Universidad de Los Andes), Didáctica y dialéctica del color
Venezuela, Caracas, Centro Cultural Consolidado, Carlos Cruz-Diez en la Arquitectura
Germany, Düsseldorf, Galerie Schöeller, Carlos Cruz-Diez. Physichromien
1990
Germany, Munich, Galerie Hermanns, Cruz-Diez. Arbeite aus den Jahren 1959-1989
France, Chateauroux, Abbaye des Cordeliers, Cruz-Diez
1988
Venezuela, Santa Ana del Norte,Cruz-Diez. Didáctica y dialéctica del color
Venezuela, Valera, Ateneo de Valera, Cruz-Diez
Venezuela, San Cristóbal, Ateneo del Táchira, Salón de Lectura, Cruz-Diez
Germany, Bottrop, Josef Albers Museum Quadrat Bottrop, Moderne Galerie, Carlos Cruz-Diez. Die Autonomie der Farbe. Bilders - Plastiken - Objekte aus den Jahren 1959-1988
Germany, Kaiserslautern, Galerie Wack, Cruz-Diez. Autonomie der Farbe
Germany, Munich, Galerie Hermanns, Cruz-Diez
Switzerland, Zürich, Stiftung für Konstruktive und Konkrete Kunst, Carlos Cruz-Diez. Bilder als Chromatische Ereignisse
Brazil, São Paulo, Gabinete de Arte Raquel Arnaud, Carlos Cruz-Diez
1987
Sweden, Stockholm, Galerie Konstruktiv Tendens, Cruz-Diez
Brazil, São Paulo, Gabinete de Arte Raquel Arnaud, Carlos Cruz-Diez
Venezuela, Ciudad Guayana, Sala de Arte Sidor, C.V.G Siderúrgica del Orinoco C.A., Cruz-Diez
Venezuela, Caracas, Alianza Francesa (Edificio Francisco Solano), Cruz-Diez y el color
Venezuela, El Tigre, Complejo Cultural Simón Rodríguez, Cruz-Diez. Didáctica y dialéctica del color
Germany, Düsseldorf, Galerie Schöeller, Carlos Cruz-Diez. Autonomie der Farbe
Denmark, Copenhagen, Frederiksberg Raadhus (City Hall), Cruz-Diez. Didactic and Dialectic of Colour
1986
Colombia, Roldanillo, Museo Rayo, Cruz-Diez. Serigrafías
Poland, Krakow, Galerie Krzystofory, Didactic and Dialectic of Colour
France, Paris, Galerie Denise René - Rive Gauche, Cruz-Diez
Greece, Athens, Athens Cultural Center, Cruz-Diez. Didactic and Dialectic of Colour
Serbia, Belgrade, National Library of Serbia, Cruz-Diez. Didactic and Dialectic of Colour
Slovenia, Ljubljana, Moderna Galerija, Embajada de Embajada de Venezuela, Carlos Cruz-Diez. Didaktika in Dialektika Barve
1985
Germany, Frankfurt, Interstoff Art Gallery, Cruz-Diez. Didaktik und Dialektik der Farbe
Colombia, Medellin, Museo de Arte Moderno, El Artista y la Ciudad
Colombia, Bogotá, Museo de Arte Moderno, Cruz-Diez. La construcción de un lenguaje
France, Castres, Municipal Theater, Didactique et Dialectique de la Couleur
Colombia, Medellín, Museo de Arte Moderno, Carlos Cruz-Diez
Colombia, Medellín, Galería Arte Autopista,Cruz-Diez
1984
Venezuela, Valencia, Galería Centro Arte El Parque,Cruz-Diez
France, Jouy-en-Josas, École Supérieure de Commerce, Didactique et dialectique de la couleur
Colombia, Cali, Museo de Arte Moderno La Tertulia, Cruz-Diez
Colombia, Barranquilla, Galería Jairo Quintero, Cruz-Diez
1983
United Kingdom, Reading, University of Reading, Didactic and Dialectic of Colour
Venezuela, Caracas, Galería Espiral (Escuela Cristóbal Rojas), Didáctica y dialéctica del color
United Kingdom, London, Imperial College of Science and Technology, Cruz-Diez. Didactic and Dialectic of Colour
Venezuela, Caracas, Universidad Central de Venezuela, Faculty of Architecture and Urbanism, Carlos Cruz-Diez y la Arquitectura
Venezuela, Barquisimeto, Galería Lea, Cruz-Diez. Exposición de Originales y Gráficas
1982
Mexico, Mexico City, Museo de Arte Carrillo Gil, Cruz-Diez. Didáctica y dialéctica del color
France, Arras, Centre Culturel Noroit, Cruz-Diez. Didactique et Dialectique de la Couleur
Italy, Ferrara, Palazzo dei Diamanti, Sala d'Arte Benvenuto Tisi, Carlos Cruz-Diez
Mexico, Monclova, Museo Biblioteca Pape, Cruz-Diez. Didáctica y dialéctica del color
1981
Italy, Pordenone, Galleria Sagittaria, Centro Iniziative Culturali Pordenone, Carlos Cruz-Diez. Didattica e dialettica del colore (119a Mostra d'Arte)
Venezuela, Mérida, Galería Rolando Oliver Rugeles (Edificio MERENAP), Cruz-Diez
France, Saint-Priest, Galerie Municipale d'Exposition, Centre Culturel Théo-Argence, Cruz-Diez
Venezuela, Maracay, Corpoindustria, Cruz-Diez. Didáctica y dialéctica del color
Venezuela, Caracas, Museo de Arte Contemporáneo Sofía Imber - Sala Cadafe - Sala Ipostel, Cruz-Diez. Didáctica y dialéctica del color. Intervenciones en la arquitectura. Inducciones cromáticas
Sweden, Stockholm, Galerie Konstruktiv Tendens, Carlos Cruz-Diez. Physichromies - Une nouvelle théorie de la couleur dans l'espace tridimensionnel
1980
United Kingdom, Liverpool, University of Liverpool, Art in the Street
France, Paris, Galerie Denise René - Rive Gauche, Carlos Cruz-Diez. Sérigraphies
Venezuela,El Tigre, Casa de la Cultura, Cruz-Diez. Didáctica y dialéctica del color
Venezuela, Puerto La Cruz, Galería Municipal de Arte Moderno, Cruz-Diez
Cuba, Havana, Casa de las Américas - Galería latinoamericana, Didáctica y dialéctica del color
Venezuela, Porlamar, Museo de Arte Contemporaneo Francisco Narváez, Carlos Cruz-Diez. Estudio sobre el color
Venezuela,Caracas, Museo de Arte de la Universidad Simón Bolívar, Cruz-Diez. Didáctica y dialéctica del color
France, Paris, Galerie Denise René - Rive Gauche, Cruz-Diez. Nouvelles Physichromies
1979
Venezuela, Caracas, Galería Arte Contacto, Inducción - Adición. Ultimas Investigaciones Cromáticas de Carlos Cruz-Diez
1978
Croatia, Zagreb, Galerija Suvremene Umjetnosti, Cruz-Diez. Umjetnik i Grad [The Artist and the City]
United Kingdom, Reading, Reading University, Palmer Building, Cruz-Diez. Architectural Integration. Art in the Street. Works and Projects. Chromo-Kinetic Environments
Switzerland, Ermatingen, UBS Ausbildungszentrum Wolfsberg, Carlos Cruz-Diez. Caracas/Paris
Germany, Berlin, The Integration of Art with Architecture. Chromo-kinetic Environments, Ibero-amerikanisches Institut (IAI), Cruz-Diez. Arts in the Streets
Switzerland, Zurich, SBG Galerie (Pavillon Werd), Carlos Cruz-Diez. Caracas/Paris
Venezuela, Caracas, Graphic CB2, Cruz-Diez. 20 años de gráfica
1977
United Kingdom, London, Imperial College London, Art dans la Rue
Venezuela, Caracas, Alianza Francesa (La Sede de La Castellana), Carlos Cruz-Diez
France, Caen, Atelier de Recherche Esthétique, L'artiste et la ville. Son oeuvre à Caracas
France, Arras, Centre Culturel Noroit, Cruz-Diez. Couleur Événement
Spain, Madrid, Galería Aele-Puigcerda, Cruz-Diez
United States, New York, Consulate General of Venezuela, Galería Venezuela, Carlos Cruz-Diez. Paintings and Drawings
Switzerland, Kreuzlingen, Galerie Latzer, Carlos Cruz-Diez. Physichromien
1976
Spain, Pamplona, Pabellones de Arte Ciudadela, Cruz-Diez
Mexico, Mexico City, Museo de Arte Moderno, Fisicromías (Cromocinetismo). Carlos Cruz-Diez, artista venezolano
United States, New York, Galerie Denise René, Cruz-Diez. Color Evolutio
Spain, Bilbao, Galería Mikeldi, Carlos Cruz-Diez. Obras sobre el Muro, Gráficas e Integración Arquitectónica
Switzerland,La Chaux-de-Fonds, Musée des Beaux-Arts, Carlos Cruz-Diez
1975
Germany, Düsseldorf, Galerie Denise René -Hans Mayer, Cruz-Diez. Intégrations à l'Architecture, Réalisations et Projets
Colombia,Cali, Museo de Arte Moderno La Tertulia, Carlos Cruz-Diez. Obras sobre el Muro, Gráficas e Integración Arquitectónica
Venezuela, Maracaibo, Galería Gaudí, Universidad del Zulia, Cruz-Diez
Spain, Madrid, Galería Aele, Carlos Cruz-Diez. Obras sobre el Muro, Gráficas e Integración Arquitectónica
Spain, Madrid, Escuela Técnica Superior de Arquitectura (ETSA), Exhibitions Hall, Carlos Cruz-Diez. Maquetas – Fisicromías
Colombia, Bogotá, Gráficas e Integración Arquitectónica, Museo de Arte Moderno, Carlos Cruz-Diez. Obras sobre el Muro
Venezuela, Caracas, Galería Adler-Castillo, Carlos Cruz-Diez
Venezuela, Caracas, Sala de Exposiciones de la Gobernación del Distrito Federal, Cruz-Diez. Barcelona, Galería Barbié, Obras sobre el Muro, Gráficas de Integración Arquitectónica
Spain, Barcelona, Seny, Carlos Cruz-Diez. Obra Gráfica
Spain, Barcelona, Foment de les Arts Decoratives (FAD), Cruz-Diez. Maquetas y diapositivas
France, Paris, Galerie Denise René - Rive Gauche, Cruz-Diez 1. Intégrations à l'Architecture, Réalisations et Projets
France, Paris, Galerie Denise René - Rue la Boétie, Cruz-Diez 2. OEuvres Récentes
1974
Venezuela, Caracas, Museo de Arte Contemporáneo Sofía Imber - Sala Cadafe, Carlos Cruz-Diez
Italy, Rome, Galleria della Trinità, Cruz-Diez
Venezuela,Caripito, Casa de la Cultura, Cruz-Diez
Venezuela, Caracas, Galería Conkright, Cruz-Diez
1973
Venezuela, Caracas, Galería Conkright, Cruz-Diez. Serigrafías
Italy, Milan, Galleria Falchi Arte Moderna, Fisicromie, Cromosaturazioni, Induzioni Cromatiche,Cromointerferenze
Italy, Turin, Galleria Christian Stein, Cruz-Diez
France, Paris, Galerie Denise René - Rive gauche, Cruz-Diez
1972
Germany, Munich, Galerie Buchholz, Cruz-Diez
1971
Venezuela, Caracas, Galería Conkright, Cruz-Diez. Color Aditivo
Italy, Rome, Galleria del Cortile, Cruz-Diez
1970
Italy, Macerata, Galleria Artestudio, Cruz-Diez
Germany, Frankfurt am Main, Galerie Ursula Lichter, Cruz-Diez, Physichromien
Italy, Venice, Galleria Barozzi, Calle del Bastion alla Salute, Carlos Cruz-Diez
Italy, Venice, Venezuelan Pavilion, 35th Venice Biennial
1969
Venezuela, Caracas, Galería Conkright, Cruz-Diez. Fisicromías, Transcromías y Cromointerferencias
France, Paris, Galerie Denise René - Rive gauche, Cruz-Diez. Multiples
France, Paris, Galerie Denise René - Rue la Boétie, Cruz-Diez. Cinq propositions sur la couleur
1968
Belgium, Brussels, Galerie Accent, Cruz-Diez. Physichromies
1967
Venezuela, Caracas, Galería Conkright, Carlos Cruz-Diez de 1964-1967
Germany, Cologne, Galerie Art Intermedia, Physichromien von Carlos Cruz-Diez
1966
Switzerland, Bern, Galeria Aktuell, Cruz-Diez
Germany, Essen, Galerie M. E. Thelen, Carlos Cruz-Diez
Venezuela, Caracas, Fundación Eugenio Mendoza, Sala Mendoza, Fisicromías de Cruz-Diez
1965
Italy, Genoa, Galleria La Polena, Cruz-Diez
France, Paris, Galerie Kerchache, Physichromies de Cruz-Diez. OEuvres de 1954 à 1965
Italy, Turin, Galleria Il Punto Arte Moderna, Cruz-Diez
United Kingdom, London, Signals London, A Decade of Physichromies by Carlos Cruz-Diez
1963
Italy, Trieste, Galleria La Cavana, Cruz-Diez
1960
Venezuela,Caracas, Universidad Central de Venezuela, Faculty of Architecture, Fisicromías de Cruz-Diez
Venezuela, Caracas, Museo de Bellas Artes, Fisicromías de Cruz-Diez
1956
Spain, Barcelona, Sala Gaspar, Cruz-Diez
Spain, Madrid, Galería Buchholz, Carlos Cruz-Diez
1955
Venezuela, Caracas, Museo de Bellas Artes, Carlos Cruz Diez. Obras de 1949 al 55
1947
Venezuela,Caracas, Centro Venezolano Americano, 12 gouaches de Carlos Cruz-Diez