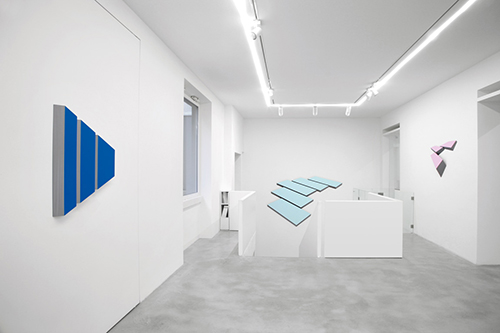 WOLFRAM ULLRICH. PURO COLORE, PURA FORMA
a cura di Matteo Galbiati
Galleria Dep Art, Milano
21 giugno – 29 settembre 2018
Inaugura mercoledì 20 giugno 2018, ore 19
Con una mostra monografica dedicata a Wolfram Ullrich (Würzburg, Germania, 1961) – la prima in Italia dell'artista tedesco – la galleria Dep Art di Milano conclude la stagione espositiva in vista della pausa estiva. Attraverso un'ampia selezione di opere che illustrano i caratteristici modi espressivi dell'artista, "Wolfram Ullrich. Puro colore, pura forma", dal 21 giugno al 29 settembre 2018, anticipa la rassegna pubblica che vedrà Ullrich protagonista al Museo MARCA di Catanzaro in novembre.
In mostra è possibile ammirare circa venti lavori in acrilico su acciaio, tutti realizzati appositamente per la mostra milanese, di grandi, medie e piccole dimensioni.
Le astrazioni geometriche tridimensionali di Ullrich sono il frutto di un assemblaggio di segmenti in acciaio preparati in modo che l'acrilico, applicato per velature successive, vi si possa fissare.
Nel tentativo di comprendere analiticamente le opere di Ullrich, da una visione complessiva al particolare dei segmenti, si incontrano incoerenze prospettiche che l'artista accentua con precisione millimetrica. Se al contrario si decide di adottare un approccio sintetico, partendo dai segmenti per arrivare alla forma totale, i rilievi iniziano a girare su se stessi: a seconda della posizione dell'osservatore le opere si inclinano, diventano morbide, si piegano in strette fessure d'ombra. Il lavoro di Ullrich entra quindi in relazione non solo con l'occhio dello spettatore, ma anche con lo spazio e con il movimento del visitatore all'interno di tale spazio, trattando entrambi come variabili dinamiche.
Altro elemento fondante del lavoro dell'artista tedesco è la ricerca e l'uso piatto del colore. Tra bidimensionalità e tridimensionalità il segno cromatico di Ullrich anima la superficie della parete marcandola con presenze vive e interattive: a partire dall'artificio della pittura, il colore diventa forma concreta e tridimensionale, determinando i lavori in estensioni spaziali, al limite con l'installazione. L'intervento di Ullrich si disloca infatti nello spazio secondo la misura rigorosa eppur libera delle sue sequenze che danno vita nel loro insieme a un'unica installazione in cui ciascun elemento è legato e rimanda al successivo.
"Questa esposizione – afferma il curatore Matteo Galbiati – costituisce una preziosa occasione per approfondire e scoprire la complessa semplicità del linguaggio dell'artista tedesco che, con un costante variare di pochi elementi, rinnova ogni volta la dinamica di una bellezza che tende ai limiti di nuove e imprevedibili prospettive".
La mostra è accompagnata da un volume bilingue (italiano-inglese) realizzato da Dep Art, a cura di Matteo Galbiati e Antonio Addamiano, contenente il testo critico del curatore, la riproduzione di tutte le opere esposte, le vedute dell'allestimento in galleria, una selezione di immagini di repertorio e apparati bio-bibliografici aggiornati.

Scarica il comunicato stampa


| | |
| --- | --- |
| Titolo: | Wolfram Ullrich. Puro colore, pura forma |
| A cura di: | Matteo Galbiati |
| Sede: | Galleria Dep Art, Via Comelico 40, 20135 Milano |
| Date: | 21 giugno – 29 settembre 2018 |
| Inaugurazione: | mercoledì 20 giugno 2018, ore 19.00 |
| Orari: | da martedì a sabato ore 10.30-19.00 |
| Ufficio stampa: | NORA comunicazione |
| | Eleonora Caracciolo di Torchiarolo |
| | Tel. +39 339 89 59 372 - info@noracomunicazione.it - www.noracomunicazione.it |
WOLFRAM ULLRICH. PURE COLOR, PURE FORM
curated by Matteo Galbiati
Dep Art Gallery, Milan
21 June – 29 September 2018
Inauguration Wednesday, 20 June 2018, 7:00 P.M.
With a solo exhibition by Wolfram Ullrich (Würzburg, Germany, 1961) – the first in Italy by the German artist – the Dep Art Gallery in Milan closes its exhibition program for summer vacation. Through a vast selection of works that illustrate the artist's characteristic means of expression, "Wolfram Ullrich. Pure Color, Pure Form", from June 21st to September 29th 2018, precedes the public event where Ullrich will be the protagonist at the MARCA museum in Catanzaro this November.
Visitors will be able to admire around twenty works in acrylic on steel, all made specifically for the show, of large, medium, and small dimensions.
Ullrich's three-dimensional geometric abstractions are the result of assembling steel segments prepared so that the acrylic, which is applied in successive layers, will adhere onto them.
In an attempt to analytically understand the works of Ullrich, from an overall to a detail view of the segments, we find perspective incoherence the artist accentuates with millimetric precision. If on the contrary a synthetic approach is adopted, starting from the fragments and then the total form, the reliefs start to turn on themselves: depending on the viewer's position, the works bend, they become soft, they fold in tight fissures of shadows. Ullrich's work dialogues not only with the viewer's eye but also with the space and the spectator's motion inside this space, treating both like dynamic variables.
Another fundamental element in the German artist's work is his research and flat use of color. Between two and three dimensions, the colors of Ullrich enliven the surface of the walls, marking them with living and interacting presences: beginning with painting, color becomes a concrete and three-dimensional form, establishing the works in spatial extension, bordering on installations. In fact, Ullrich's intervention unfolds in the space according to the rigorous yet free measure of the sequences that give life overall to a single installation where each element is bound and refers to the next one.
"The exhibition," states the curator Matteo Galbiati, "is a precious opportunity to analyze and discover the complex simplicity of the language of the German artist who, by constantly varying few elements, renews each time the dynamics of a beauty that tends to the limits of new and unexpected perspectives."
The show is accompanied by a bilingual publication (Italian/English) released by Dep Art, edited by Matteo Galbiati and Antonio Addamiano, and contains the curator's essay, the reproduction of all the works on display, installation views of the gallery, a selection of repertoire images, and updated bio-bibliographic information.

Download Press Release


| | |
| --- | --- |
| Title: | Wolfram Ullrich. Pure color, pure form |
| Curator: | Matteo Galbiati |
| Location: | Dep Art Gallery, Via Comelico 40, 20135 Milan |
| Dates: | 21 June – 29 September, 2018 |
| Inauguration: | 7:00 P.M., Wednesday, October 18, 2017 |
| Hours: | Tuesday to Saturday, 10:30am – 7:00pm. |
| Press office: | NORA comunicazione |
| | Eleonora Caracciolo di Torchiarolo |
| | Tel. +39 339 89 59 372 - info@noracomunicazione.it - www.noracomunicazione.it |