Solo show Turi Simeti
BOOTH A26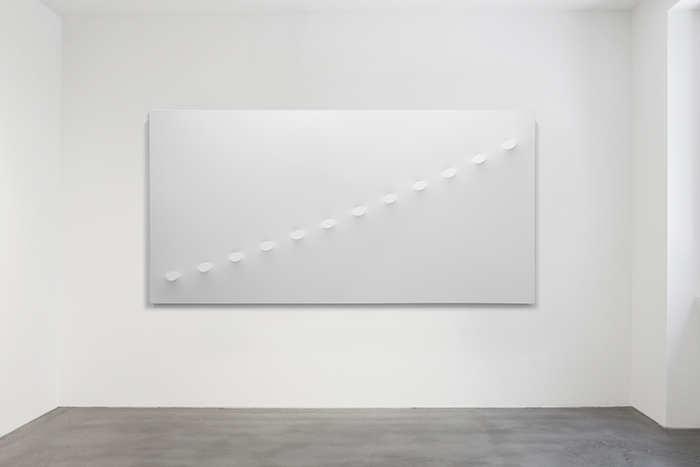 ART Brussels will take place from 22 to 25 April 2021
https://www.artbrussels.com/en/
Dep Art Gallery presents a solo show of Turi Simeti, celebrating over fifty years of career in an anthological exhibition through seven symbolic artworks.
Starting from the very beginning, when a young Simeti got in touch with Alberto Burri ̶ spending time together in Rome, where the Umbrian artist was creating his "Combustioni" which we can suppose were a source of inspiration for Turi Simeti, as we can see in his "Composizione collage di carta bruciata", 1961 ̶ up to his trademark: the ellipse, which became the code of his artistic work.

Collage di carta bruciata su tela, 1961
The works pieces show different moments of the artist's production, linked to each other by the colour black: this choice permits a better understanding of the Simeti's path development, focusing the attention on the various techniques.
Starting from the already mentioned collage of burned paper, the journey into Turi Simeti's art passes through other works on paper ̶ like "6 ovali neri", 1965 ̶ until reaching his shaped canvases, which are the result of a precise working method that distinguishes his art, making him unique and internationally renowned.

​6 ovali neri, 1965
The exquisite pieces, that will present even his experiments with other shapes ("Rettangolo nero", 1972) and different materials, like the extraordinary piece where the framework is covered of Ciré, a highly glazed wax finish applied to a fabric through a process of heat and pressure ("2 ovali neri", 2010).
Dep Art Gallery, thanks to its really special relationship with Simeti ̶ whose is the Artist's Archive as well ̶ will be able to show historical and rarely seen works in wide-format, included in the artist catalogue raisonné, edited by Skira, and curated by the Gallery Director Antonio Addamiano and Federico Sardella.