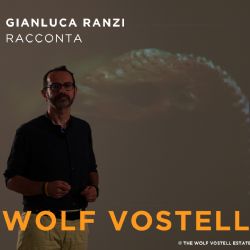 Wolf Vostell (1932-1998), artista Fluxus e promotore dell'Happening in Europa ha cominciato fin dal 1959 a ideare opere che coinvolgevano attivamente i media tecnologici, manipolando televisori e apparecchi audio-visivi di ogni sorta, spesso inserendoli all'interno delle sue action-dé-coll/age. Nel video di Endogene Depression ad esempio, qui nella versione presentata nel 1980 all'Institute of Contemporary Art di Los Angeles, la presenza dei televisori, inglobati nel cemento, alcuni dei quali accesi e con il suono e l'immagine manipolati elettronicamente, è associata al girovagare dei tacchini, a sottolineare il contrasto tra l'artificialità della macchina e la verità del mondo naturale. A differenza di Paik, come emerge da questo video, Wolf Vostell si preoccupa quindi di criticare gli effetti imposti dalla televisione come rituale schizofrenico e alienante.
VIDEO DUET: Nam June Paik e Wolf Vostell
I pionieri della videoarte
a cura di Gianluca Ranzi
Grazie a Simone Bani per la ripresa e il montaggio.
© The Wolf Vostell Estate
Wolf Vostell (1932-1998), a Fluxus artist and promoter of the Happening in Europe, began as early as 1959 to devise works that actively involved technological media, manipulating televisions and audio-visual devices of all kinds, often inserting them within his action-dé-coll/age. In the video of Endogene Depression for instance, here in the version presented in 1980 at the Institute of Contemporary Art in Los Angeles, the presence of televisions, embedded in concrete, some of them switched on and with the sound and image electronically manipulated, is associated with the wandering of turkeys, underlining the contrast between the artificiality of the machine and the truth of the natural world. Unlike Paik, as is evident from this video, Wolf Vostell is thus concerned with criticising the effects imposed by television as a schizophrenic and alienating ritual.
VIDEO DUET: Nam June Paik and Wolf Vostell
The pioneers of video art
curated by Gianluca Ranzi
Thanks to Simone Bani for filming and editing.
© The Wolf Vostell Estate