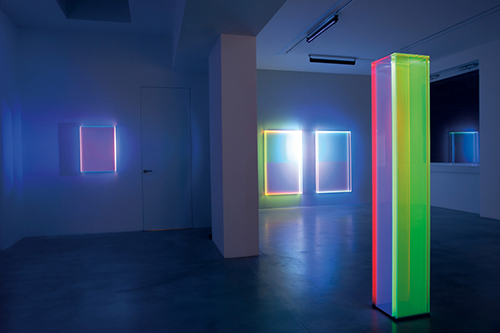 REGINE SCHUMANN. COLORMIRROR
a cura di Alberto Zanchetta
Galleria Dep Art, Milano
31 ottobre – 26 gennaio
Inaugurazione martedì 30 ottobre, ore 19.00
Con "Colormirror", la prima personale italiana di Regine Schumann, la galleria Dep Art di Milano prosegue il suo programma di ricerca e promozione di artisti mid-career che vantano importanti curricula internazionali. Attraverso un corposo nucleo di opere, di medie e grandi dimensioni (i formati variano dagli 80 ai 240 cm di altezza), la mostra presenta i lavori più recenti di un'artista che è considerata, in virtù delle sue sperimentazioni con i materiali acrilici, tra i più importanti innovatori nell'ambito delle ricerche cromatiche e cinevisuali.
L'opera di Regine Schumann esplora le relazioni tra colore, luce e architettura attraverso dei pannelli luminosi – una sorta di monoliti dai colori pulsanti – che offrono ai visitatori una suggestiva esperienza sensoriale.
Le sculture di Schumann sono create per interagire con la luce: i colori fluorescenti delle opere cambiano infatti con il mutare della luce naturale e a seconda del punto di osservazione. L'artista descrive così il suo lavoro: "Il vetro acrilico colorato e fluorescente gioca nelle mie opere un ruolo importante. Il materiale che utilizzo si illumina non appena riceve energia luminosa, sia essa naturale o artificiale. A seconda della posizione, i diversi pannelli producono differenti stratificazioni, miscelazioni e selezioni di luce e colori".
Le sue composizioni cromatiche si ispirano alla teoria dei colori di Goethe, in base alla quale i colori prendono vita dall'interazione tra luce e oscurità; consapevole di questa relazione, in alcuni casi l'artista utilizza la luce di wood per conferire vigore ed energia ai colori che, inaspettatamente, diventano cangianti e vibranti.
L'architettura è il terzo elemento fondamentale che completa il lavoro dell'artista. Le sue installazioni site-specific modificano infatti lo spazio esistente conferendogli una dimensione di vibrazione e - come lei stessa la definisce - una "temperatura" ambientale. A tale proposito, Alberto Zanchetta, curatore della mostra, scrive: "Le opere di Regine Schumann delimitano uno spazio fisico che altera e ridefinisce l'ambiente in cui sono contenute. Le superfici in plexiglass ricorrono a colori che si compenetrano, si specchiano e riverberano, rendendo l'opera immateriale, come fosse un'emanazione di luce pura. Coinvolto in una duplice esperienza visiva (diurna/naturale e notturna/artificiale), lo spettatore è invitato a interrogarsi sulle ampie possibilità dello spettro cromatico rispetto ai limiti fisiologici imposti dall'occhio umano. L'effetto straniante di tali fluorescenze è ottenuto dalla sintesi delle superfici frontali, retrostanti e perimetrali che assorbono o irradiano la luce, sottoponendo la visione a cambiamenti impercettibili, a volte graduali, altre volte repentini. Ma in ogni caso sorprendenti".
La mostra è accompagnata da un volume bilingue (italiano-inglese) realizzato da Dep Art, a cura di Alberto Zanchetta e Antonio Addamiano, contenente il testo critico del curatore, la riproduzione di tutte le opere esposte, le vedute dell'allestimento in galleria e apparati bio-bibliografici aggiornati.


| | |
| --- | --- |
| Titolo: | Colormirror |
| A cura di: | Alberto Zanchetta |
| Sede: | Galleria Dep Art, Via Comelico 40, 20135 Milano |
| Date: | 31 ottobre - 26 gennaio 2019 |
| Inaugurazione: | martedì 30 ottobre, ore 19.00 |
| Orari: | da martedì a sabato ore 10.30-19.00 |
| Ufficio stampa | NORA comunicazione |
| | Eleonora Caracciolo di Torchiarolo |
| | Tel. +39 339 89 59 372 - info@noracomunicazione.it - www.noracomunicazione.it |
REGINE SCHUMANN. COLORMIRROR
curated by Alberto Zanchetta
Milan, Dep Art Gallery
31 October – 26 January
Inauguration Tuesday, October 30, 7:00 P.M.
With "Colormirror", the first solo show in Italy by Regine Schumann, the Dep Art gallery in Milan continues with its research and promotion of mid-career artists with important international experience. With a considerable body of work, of mid and large dimensions (the formats vary from 80 to 240 cm in height), the exhibition presents the latest works by an artist who is considered, in virtue of her experiments with acrylic materials, one of the most important innovators in the field of color and cinevisual research.
The work of Regine Schumann explores the relationship between color, light, and architecture through light panels – a sort of monolith with vibrant colors – that offer viewers an evocative sensorial experience.
Regine Schumann's sculptures are created to interact with light: the fluorescent colors of the works change with sunlight and depending on the viewing point. The artist describes her work thusly: "The colored and fluorescent acrylic glass plays, in my work, an important role. The material I use lights up as soon as it receives light energy, either natural or artificial. Depending on the position, the different panels create different layers, combinations, and selection of light and color".
Her color compositions are inspired by Goethe's color theory, based on the fact that colors come alive from the interaction of light and darkness; aware of this bond, in some cases the artist uses black light to add vigor and energy to the colors that, unexpectedly, shimmer and become bold.
Architecture is the third fundamental element that rounds of this artist's work. In fact, her site-specific installations modify the existing space, giving it a vibrating dimension and – as she herself calls it – an environmental "temperature". In this regard, Alberto Zanchetta, the exhibition curator, writes: "The works of Regine Schumann mark off a physical space that alters and redefines the environment in which they are contained. The acrylic glass surfaces resort to colors that penetrate and reflect one another, or reverberate, making the wok immaterial, as if it were an emanation of pure color. Engaged in a two-fold visual experience (day/natural and night/artificial), the viewer is invited to question the vast possibilities of the color spectrum with respect to the physiological limits imposed by the human eye. The disorienting effect of the fluorescence is achieved thanks to the synthesis of the front, rear, and perimeter surfaces that absorb or reflect light, subjecting sight to imperceptible changes, which are at times gradual or even sudden. But in any case, surprising".
The exhibition is accompanied by a bilingual volume (Italian-English) published by Dep Art and edited by Alberto Zanchetta and Antonio Addamiano, containing the curator's text, the reproduction of all works on display, installation views in the gallery, and an updated bio-bibliography.


| | |
| --- | --- |
| Title: | Colormirror |
| Curator: | Alberto Zanchetta |
| Location: | Dep Art Gallery, Via Comelico 40, 20135 Milan |
| Dates: | October 31 - January 26, 2019 |
| Inauguration: | 7:00 P.M., Tuesday, October 30 |
| Hours: | Tuesday to Saturday, 10:30am – 7:00pm. |
| Press office: | NORA comunicazione |
| | Eleonora Caracciolo di Torchiarolo |
| | Tel. +39 339 89 59 372 - info@noracomunicazione.it - www.noracomunicazione.it |