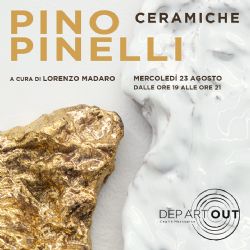 Pino Pinelli. CERAMICHE
a cura di Lorenzo Madaro
Opening 23 agosto 2023
Il terzo appuntamento della stagione espositiva di Dep Art Out a Ceglie Messapica – sede estiva dalla Dep Art Gallery di Milano – è dedicato all'opera di Pino Pinelli (Catania 1938). Mercoledì 23 agosto 2023, dalle ore 19 alle 21, l'artista siciliano sarà protagonista di una serata-evento a cura di Lorenzo Madaro, organizzata in collaborazione con l'Archivio Pino Pinelli.
Dep Art Out è un luogo dove l'arte si manifesta in modo innovativo. Il trullo, icona della Puglia riconosciuta in tutto il mondo, diventa uno spazio espositivo stra-ordinario, immerso nelle campagne tra Ceglie Messapica e Martina Franca.
Pino Pinelli è un artista capace di trasformare l'essenza epidermica delle proprie forme e di assecondare le attitudini plurali della materia, sperimentando di volta in volta tecniche differenti. Un nucleo di opere realizzate in ceramica – protagoniste di questo focus espositivo a Ceglie Messapica – da un lato conferma la complessità dei suoi interessi linguistici aniconici, dall'altro l'attitudine verso le differenti metamorfosi – tattili e seduttive – della materia stessa, che è uno dei capisaldi di tutta la sua ricerca che l'ha reso uno dei padri nobili dell'arte italiana del secondo Novecento.
"La ceramica – racconta l'artista al curatore Lorenzo Madaro in una recente conversazione – in passato è stata considerata un'arte di sponda, quando invece riesce a darti dei sapori che gli altri materiali non sono in grado di restituirti". Così le opere in mostra palesano la forza intrinseca di "un tesoro privato", come lo definisce l'artista, perché appartengono a un'area apparentemente misconosciuta del suo lavoro. Raramente, infatti, sono state esposte le opere ceramiche di Pinelli, che rappresentano anche una pagina intimamente legata al genius loci della sua terra, la Sicilia a cui, nonostante l'intensa esperienza milanese, in corso da oltre mezzo secolo, è sempre rimasto legatissimo. Non a caso all'ingresso del suo studio a Milano ha installato alcuni frammenti di ceramiche sicule: un promemoria, ma anche una nota identitaria. La mostra è – per usare sempre le parole del maestro – "un viaggio verso nuove scoperte", anche grazie al dialogo tra la materia primigenia delle architetture dei trulli e la ricercata arcaicità delle forme plasmate da Pinelli.
L'evento è patrocinato dell'Assessorato alla Cultura della Città di Ceglie Messapica.
Pino Pinelli. CERAMICS
curated by Lorenzo Madaro
Opening August 23rd, 2023
The third event of the Dep Art Out exhibition season in Ceglie Messapica-summer venue from Milan's Dep Art Gallery-is dedicated to the work of Pino Pinelli (Catania 1938). On Wednesday, Aug. 23, 2023, from 7 to 9 p.m., the Sicilian artist will be the protagonist of an evening event curated by Lorenzo Madaro, organized in collaboration with the Archivio Pino Pinelli.
Dep Art Out is a place where art manifests itself in an innovative way. The trullo, an icon of Puglia recognized all over the world, becomes an extra-ordinary exhibition space, immersed in the countryside between Ceglie Messapica and Martina Franca.
Pino Pinelli is an artist capable of transforming the epidermal essence of his own forms and pandering to the plural attitudes of matter, experimenting with different techniques from time to time. A nucleus of works made in ceramics - the protagonists of this exhibition focus in Ceglie Messapica - on the one hand confirms the complexity of his aniconic linguistic interests, and on the other the aptitude toward the different metamorphoses - tactile and seductive - of the material itself, which is one of the cornerstones of all his research that has made him one of the noble fathers of Italian art of the second half of the 20th century.
"Ceramics," the artist tells curator Lorenzo Madaro in a recent conversation, "has in the past been considered a bankable art, when in fact it can give you flavors that other materials cannot give you back. Thus the works in the exhibition manifest the inherent power of "a private treasure," as the artist calls it, because they belong to a seemingly unrecognized area of his work. Rarely, in fact, have Pinelli's ceramic works been exhibited, which also represent a page intimately linked to the genius loci of his homeland, Sicily, to which, despite his intense Milanese experience, ongoing for more than half a century, he has always remained very attached. It is no coincidence that at the entrance to his studio in Milan he has installed some fragments of Sicilian ceramics: a reminder, but also a note of identity. The exhibition is - to always use the master's words - "a journey toward new discoveries," thanks in part to the dialogue between the primal material of the trulli architecture and the refined archaic nature of the forms shaped by Pinelli.
The event is sponsored by the Culture Department of the City of Ceglie Messapica.