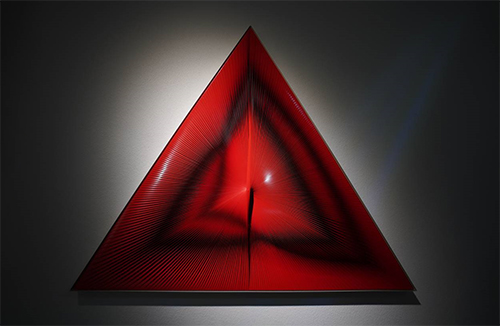 Alberto Biasi, Triangolo equilatero, 1965 @ APE Parma Museo
Nell'ambito della programmazione artistica del suo nuovo centro culturale e museale, inaugurato nel 2018, la Fondazione ha scelto di ricordare la figura di Giuseppe Niccoli, la sua straordinaria attività di scoperta e valorizzazione di talenti e la storia della Galleria fondata negli anni '70, che per la sua opera originale costituisce un unicum e ha saputo affermarsi a livello internazionale.
La mostra, curata da Roberto e Marco Niccoli, presenta opere di artisti internazionali, come Afro, Agostino Bonalumi, Alberto Burri, Alberto Biasi, Enrico Castellani, Alik Cavaliere, Piero Dorazio, Lucio Fontana, Conrad Marca-Relli, Fausto Melotti, Pino Pinelli, Salvatore Scarpitta, Mario Schifano, e molti altri, in rappresentanza delle correnti artistiche che la Galleria Niccoli ha seguito, esposto e sostenuto nel corso degli ultimi 50 anni, anticipando in molti casi le tendenze di mercato e svolgendo inoltre un'importante attività di riordino e riscoperta di artisti e movimenti dimenticati. In particolare, un posto di riguardo all'interno del percorso espositivo è riservato al noto artista Conrad Marca-Relli, trasferitosi a Parma nel 1997, anno nel quale viene istituito presso la Galleria il suo archivio. Il titolo dell'esposizione si rifà all'importante collana Attraverso le avanguardie, cardine dell'intensa attività editoriale portata avanti dalla Galleria Niccoli, che ha dato vita a cataloghi e volumi divenuti veri e propri manuali di storia dell'arte, cui la mostra riserva un ampio spazio. L'editoria è del resto il mondo dal quale Giuseppe Niccoli proviene: da agente editoriale della Rizzoli, apre quattro punti vendita a Trieste, Firenze, Pescara e Parma, scegliendo poi quest'ultima come propria città adottiva dove si stabilisce aprendo una libreria specializzata in volumi d'arte, che diviene pian piano anche spazio espositivo, fino a trasformarsi definitivamente in galleria d'arte nel 1980.
La mostra è visitabile dal martedì alla domenica, dalle ore 10.30 alle 17.30. Ingresso intero: 8 euro; ridotto (under 35, over 65, persone diversamente abili e loro accompagnatori, gruppi di almeno 10 persone): 5 euro; ingresso gratuito per scuole, under 18, guide turistiche e giornalisti. La prenotazione è necessaria solo per gruppi superiori alle 8 persone.

Per informazioni e prenotazioni:
tel. 05212034 - attraversoleavanguardie@apeparmamuseo.it.
Within the artistic program of its new cultural and museum centre inaugurated in 2018, the Foundation has chosen to remember the figure of Giuseppe Niccoli — with his extraordinary activity of discovery and valorisation of talents and of the history of the Gallery founded in the 70's. For his original work, he constitutes an unicum and he was able to establish himself internationally.
The exhibition, curated by Roberto and Marco Niccoli, presents works of international artists such as Afro, Agostino Bonalumi, Alberto Burri, Alberto Biasi, Enrico Castellani, Alik Cavaliere,Piero Dorazio, Lucio Fontana, Conrad Marca-Relli, Fausto Melotti, Pino Pinelli, Salvatore Scarpitta, Mario Schifano and many others representing the artistic currents that Niccoli Gallery has followed, exhibited and supported in the course of the past 50 years - anticipating, in many cases, market tendencies and, furthermore, focusing on the importance of activities such as the classification and discovery of forgotten artists and movements. In particular, a special place in the exhibition is reserved for famous artist Conrad Marca-Relli, who moved to Parma in 1997 - the same year in which his archive was constituted at the Gallery. The title of the exhibition resonates the important book series Through the avant - garde, a pivotal point of the intense editorial activity brought forward by Niccoli Gallery and which has given life to catalogues and volumes that have become veritable history of art manuals and to which a large section is reserved in the exhibition. After all, Giuseppe Niccoli comes from the world of publishing - as an editor at Rizzoli, he opened four sale points in Trieste, Florence, Pescara and Parma, choosing subsequently the latter. After moving to Parma, he opened a bookshop that specialised in art books and which progressively became also an exhibiting space until, in 1980, it was completely transformed into art gallery.
It is possible to visit the exhibition from Tuesday to Sunday, from 10.30am to 5.30pm Full admission price: 8 euros: reduced (under 35, over 65, differently abled people and their carers, groups of at least 10 people): 5 euros; free admission for schools, under 18, tourist guides and journalists. Booking is required only for groups above 8 people.
For information and bookings:
el. +39 05212034 - attraversoleavanguardie@apeparmamuseo.it.