Stanislaw FIJALKOWSKI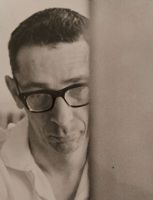 Stanisław Fijałkowski
Zdołbunów (Polonia) 1922 - Łódź 2020
Nato il 4 novembre 1922 a Zdołbunów in Polonia [oggi Ucraina]. Negli anni 1946-1951 ha studiato presso la Scuola Superiore Statale di Belle Arti di Łódź. I suoi maestri sono stati Władysław Strzemiński, Stefan Wegner e Ludwik Tyrowicz.
Nelle prime fasi della sua carriera è stato influenzato dal surrealismo e dal costruttivismo. All'inizio degli anni Sessanta ha sviluppato un linguaggio pittorico unico, basato su un approccio introspettivo al costruttivismo, al minimalismo e all'astrazione lirica, al quale è rimasto fedele fino alla morte.
È stato vicerettore della scuola e preside del Dipartimento di Grafica. L'artista ha insegnato alla sua alma mater fino al 1993.
Nel 1989/1990 è stato visiting-professor all'Università di Giessen e all'Università di Marburgo, nella Germania occidentale. È stato vicepresidente della Società internazionale degli incisori su legno XYLON di Winterthur [Svizzera] e presidente della sezione nazionale polacca di XYLON. È stato inoltre membro dell'Academia Scientiarum et Artium Europea di Salisburgo [Austria] e dell'Academie Royale des sciences des lettres & des beaux-arts de Belgique di Bruxelles. Pittore e stampatore. Ha tradotto in polacco due libri di Wassily Kandinsky: "Punto e linea alla superficie" e "Sullo spirituale nell'arte" e un libro di Malewitsch: "Il mondo dell'assenza di oggetto".
È morto a Łódź all'età di 98 anni nel 2020.
Stanisław Fijałkowski
Zdołbunów (Poland) 1922 - Łódź 2020
Born on 4 November 1922 in Zdołbunów in Poland [now Ukraine]. In the years 1946-1951 studied at the State Higher School of Fine Arts in Łódź. His schoolmasters were Władysław Strzemiński, Stefan Wegner and Ludwik Tyrowicz.
During the early stages of his career he was influenced by surrealism and constructivism. By the early 1960s he developed a unique painerly language based on an introspective approach to constructivism, minimalism and lyrical abstraction, to which he stayed loyal until death.
He was the vice-rector of the school and the dean of the Graphic Department. The artist taught at his alma mater until 1993.
In 1989/1990 was a visiting-professor on the University of Giessen and the University of Marburg in West-Germany. He was a vice-president of International Society of Wood Engravers XYLON in Winterthur [Switzerland] and president of the Polish National Section of XYLON. He was also member of Academia Scientiarum et Artium Europea in Salzburg [Austria] and Academie Royale des sciences des lettres & des beaux-arts de Belgique in Brussels. Painter and printmaker. He had translated two books of Wassily Kandinsky to polish: "Point and line to surface" and "On the spiritual in Art" and a book of Malewitsch: "The World of Objectlessness".
He died in Łódź at the age of 98 in 2020.
Esposizioni personali / Personal exhibitions

2023
Milano, Dep Art Gallery, Stanisław Fijałkowski
2022
Poznań (Poland), Galeria Piekary, Stanisław Fijałkowski, Coda
Warszawa (Poland), Wall Space, Stanisław Fijałkowski
Warszawa (Poland), Piekna Gallery, Stanisław Fijałkowski
2021
Łódź (Poland), Galeria Olimpus, Stanisław Fijałkowski, Last paintings
2017
Łódź (Poland), Galeria Olimpus, Stanisław Fijałkowski, New paintings
Brooklyn, New York (USA), Green Point project, Stanisław Fijałkowski: A Young Man Plans a Voyage
2016
Berlin (Germany), Galerie Isabella Czarnowska, Stanisław Fijałkowski. Before and after Abstraction
2014
Warszawa (Poland), Opera Gallery, Stanisław Fijałkowski
2013
Gdańsk (Poland), Muzeum Narodowe, Stanisław Fijałkowski
2012
Łódź (Poland), Miejska Galeria Sztuki, Wystawa prac Stanislawa Fijalkowskiego
2011
Edmonton (Canada), University of Alberta, Trascendence (Fijałkowski, Ikeda, Jule, Pasternak)
Ostrowiec Świętokrzyski (Poland), BWA, Stanisław Fijałkowski
2010
Łódź (Poland), Atlas Sztuki Gallery, Stanisław Fijałkowski
2009
Poznań (Poland), Galeria Ego, Stanisław Fijałkowski, Works on paper – presentation of the first edition with watercolors
2008
Lublin (Poland), Andzelm Gallery, Painting
Warszawa (Poland), Galeria Art New MEDIA, A Completely New Highway
2006
Poznań (Poland), Galeria Signum, Fijałkowski, Leder, Wasko. Paintings
2003
Poznań (Poland), Muzeum Narodowe; Warsaw (Poland), Zacheta – Narodowna Galeria Sztuki; Wroclaw (Poland), Muzeum Narodowe, Stanisław Fijałkowski
2002
Łódź (Poland), Miejska Galeria Sztuki, Stanisław Fijałkowski. Obrazy z lat 2000 – 2002
Łódź (Poland), Galeria 86, Stanisław Fijałkowski, School Years and technique
Poznań (Poland), Galeria Ego, Stanislaw Fijalkowski
Sopot (Poland), Panstwowa Galeria Sztuky, Fijalkowski/Gierowski – Visions of Painting
1998
Roma; Milano (Italy), Polish Institute, Polish Consulate, Stanisław Fijałkowski
1996
Łódź (Poland), Muzeum Sztuki, Stanisław Fijałkowski, Road
Warszawa (Poland), Galeria Kordegarda, Stanisław Fijałkowski, Droga / The Road
1995
Köln (Germany), Galerie Ucher, Stanisław Fijałkowski
Kraków (Poland), Galeria Starmach, Stanisław Fijałkowski
1994
Düsseldorf (Germany), Galerie des polnischen Instituts, Stanisław Fijałkowski – Malerei, Graphik
1990
London (UK), Polish Culture Institute, Stanisław Fijałkowski, Paintings, Graphics
Warszawa (Poland), Galerie Studio, Stanisław Fijałkowski, Malarstwo, Grafika, Rysunek
1989
Marburg (Germany), Universitatsmuseum fur Kunst Und Kulturgeschichet, Stanisław Fijałkowski – Malerei, Graphik
1988
Giessen (Germany), Justus-Liebig Universitat, Stanisław Fijałkowski, Graphiken
Łódź (Poland), Galeria 86, Stanisław Fijałkowski, Obrazy
1962-1987
Wes Berlin (Germany), Galerie Marina Dinkler
1987
Berlin (Germany), Galerie Marina Dinkler, Stanisław Fijałkowski – Malarei und Grafik
1984
Paris (France), Institut Polonais, Stanisław Fijałkowski – peinture et gravure
1982
Bremen (Germany), Kleine Grafik, Stanisław Fijałkowski Linolschniotte
Kielce (Poland), BWA, Stanisław Fijałkowski Malarstwo, Grafika
1980
Edmonton (Canada), Alberta University, Stanisław Fijałkowski, Graphic Works
1977-1978
Lübeck (Germany), St Annen-Museum, Stanisław Fijałkowski – Bilder Und Grafik 1965-1977
Osnabrück (Germany), Kulturgeschichtliches Museum, Stanisław Fijałkowski – Bilder Und Grafik 1965-1977
Hannover (Germany), Kunstlerhaus, Stanisław Fijałkowski – Bilder Und Grafik 1965-1977
1974-1975
Hamburg (Germany), Galerie Elizabeth Henning, Leszek Rozga - Stanisław Fijałkowski – Two Artists from Lodz
1974
Stockholm (Sweden), Galeria Prisma, Stanisław Fijałkowski, Paintings and Graphics
1973
Kraków (Poland), Galeria Krzysztofory, Stanisław Fijałkowski, Paintings and Graphics
Warszawa (Poland), Galeria Kordegarda, Malarstwo i grafika Stanislaw Fijalkowskiego
Łódź (Poland), Salon Sztuki, Stanisław Fijałkowski, Malarstw, Grafika
1970
Graz (Austria), Galerie beim Monoritensaal, Stanisław Fijałkowski, Lucjan Mianowsky, Ignacy Witz
1967
Poznań (Poland), Galeria od-NOWA, Stanisław Fijałkowski
1966
Warszawa (Poland), Galeria Wspoczesna, Tadeus Brzozowski - Stanisław Fijałkowski – Jozef Gienlniak
1965
Paris (France), Galerie Lambert, Stanisław Fijałkowski
1962
Warszawa (Poland), Galeria Krzywe Kolo, The Paintings by Stanisław Fijałkowski
1957
Łódź (Poland), BWA, Exhibition of Paintings by Stanisław Fijałkowski
Esposizioni collettive / Group exhibitions
2021
Warszawa, Fundacja Stefana Gierowskiego, Konfrontacje i argumenty, Sztuka nowoczesna wg założeń Galerii Krzywe Koł
2018
Warszawa, Galeria DAP, Cybis = malowanie
2017
Warszawa, Fundacja Stefana Gierowskiego, Co z ta abstrakcją
2015
Łódź, Muzeum Sztuki, Szkolne lata. Początki ASP w Łodzi
2010
Łódź (Poland), Art Accademy, Galeria Blok, My first – my last painting
2009
Poznań (Poland), Galeria AT, Hommage a Matuszewski
Bydgoszcz (Poland), Museum of contemporary art, Radom, BWA, On the way to freedom, Polish art towards public affairs 1966-1994
2006
New York (US), MoMA, Eye on Europe – Prints, Books & Multiples, 1960s to Now
2005
Łódź (Poland), Muzeum Sztuki, Afterimages
2004
Białystok (Poland), Galeria Arsenal, Malevich in Poland
Łódź (Poland), Galeria 86, 100% ABSTRACTION – Moderns in Lodz, 1955-1965
2002
Łódź (Poland), Muzeum Sztuki, Profil kolekcji
2001
Warszawa, Poznan (Poland), Muzeum Narodowe, Hommage a Paul Klee
2000
Frankfurt/Main (Germany), Schrin Kunsthalle, Die vier Jahreszeiten – Polnische Landschaftesmalerei von der Aufkarung bis heute
Künzelsau (Germany), Museum Wurth, Verteidigung der Moderne-Positionender polnishen Kunst nach 1945
1997
Warszawa (Poland), Centrum Sztuki Wspolczesnej Zamek Ujazdowski, The Borders Of the Painting. Polish Painting of the 1990s
Budapest (Hungry), Mucsarnok, Lengyelorszag. Muveszet 1945-1986
1994
Bonn (Germany), Kunst und Ausstellungshalle der Bundersrepublik Deutschland, Europa/Europa. Das Jahrhundert des Avangardein Mittel und Osteuropa
1992
Lyon (France), Musee d'art. Contemporain, ELAC, Lodz/lyon, Muzeum Sztuki w Lodzi 1931-1992, Collection – Dokumentation – Actualité
1991
Warszawa (Poland), Zacheta -Narodowa Galeria Sztuki, Kilekcja Sztuki XX wien w Muzeum Sztuki w Lodzi
1990
Warszawa (Poland), National Museum, Galeria Krzywe Koto
1988
Esslingen, Wilhelmshaven (Germany), Villa Merkel, Kunsthalle, Polish painting since 1945 from the collection of the Bydgoszcz District Museum
Oliwa (Poland), Palac Opatow, National Museum in Gdansk, 100th Anniversary of Abstraction – paint collection
1986
Napoli (Italy), Centro Studi di Arte e Cultura di Napoli, Contemporary Polish Painting
1984
Warszawa (Poland), Museum Narodowe, Concept of space in contemporary art
1983
Paris (France), Centre Georges Pompidou, Presence Polonaises L, living art around the Museum of Łódź
1981
Osaka (Japan), National Museum of art, Contemporary Paintings in Eastern Europe in Japan
Łódź (Poland), Muzeum Sztuki, Graphics and 20th century drawings from the collection of the Museum of Art in Lodz
Wrocław (Poland), Muzeum Narodowe, Artists of Poland for Milosz
1978
Warszawa (Poland), National Museum, Geometry and Emotion. Geometric Trend in 20th century Graphic Arts
1977
Köln (Germany), Kolnischer Kunstverein, 22 Polish artists from the collection of the Museum of Art Łódź
1975
Warszawa (Poland), Zacheta, Romanticism and Romance in Polish 19th and 20th century Art
Kraków (Poland), Muzeum Narodowe, See and understand
Wrocław (Poland), Muzeum Narodowe, In the circle of surrealism
1972
Venezia (Italy), Polish Pavilion, XXXVI Venice Biennale
1970
London (UK), Royal Academy of Arts, 1000 Years of Artist in Poland
1969
Sao Paulo (Brazil), X Sao Paulo Biennial
1966
Kraków (Poland), I International Biennale of Graphic Arts
1965
Elbląg (Poland), Galeria el, Confrontations 65
Köln (Germany), Lampertz Contempora, Polish Art 1965
1963
Warszawa (Poland), Galeria Krzywe Kolo, Confrontations 63
1959
Warszawa (Poland), Zacheta – National Art Gallery, III Exhibition of Modern Art
1956
Warszawa (Poland), Galeria Krzywe Kolo, Exhibition of Lodz Artists – Fijalkowski, Kowalewicz-Wegner, Kunka, Modzelewski, Starczewski, Tyszkiewicz, Wegner