Piero FOGLIATI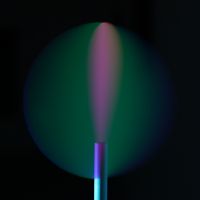 Piero Fogliati
Canelli 1930 - Torino 2016
Originario di Canelli, Piero Fogliati ha vissuto e lavorato prevalentemente a Torino. A partire dagli anni Cinquanta si dedica alle arti visive, sperimentando da autodidatta l'espressione pittorica, sia figurativa sia astratta-informale. La ricerca di uno stile personale e la fiducia nei confronti dell'autonomia del linguaggio artistico si coniugano ben presto con la forte passione per la scienza e la tecnologia. Esplorando la percezione sensoriale e i fenomeni naturali, Fogliati costruisce macchine dotate di un'estetica sublime e raffinata connessa alla sfera visiva-acustica.
Fogliati coniuga bellezza e percezione, manifestando la sua fiducia nell'immaginazione ma anche il suo affetto sincero e gioioso nei confronti dell'uomo. Le opere dell'artista sono infatti legate all'ideazione della Città Fantastica, un vasto progetto di interventi urbani in cui i suoni, le luci, gli elementi atmosferici e gli ecosistemi idrogeologici si trasformano in esperienze estetiche e sensoriali (un "sogno globale" che Fogliati sviluppa a partire dai primi anni Sessanta). In questo periodo si segnalano le prime mostre personali a Firenze, Roma e Torino, fino alla partecipazione alle due Biennali di Venezia del 1978 e del 1986, alla Biennale giapponese ARTEC di Nagoya del 1997, alla mostra "FASTER! BIGGER! BETTER! Signet works of the collections" del 2006 dedicata all'arte contemporanea degli ultimi cinquant'anni presso lo ZKM di Karlsruhe. La consacrazione torinese giunge nel 2003 con un'importante antologica dal titolo "Piero Fogliati il poeta della luce".
Sue opere sono presenti alla Galleria Civica d'Arte Moderna e Contemporanea di Torino, al Museion di Bolzano, alla Galleria Comunale di Cagliari, al MACRO di Roma, allo ZKM di Karlsruhe, al Museo Technorama der Schweiz di Winterthur, al Musée de l'énergie électrique di Mulhouse, all'AT&T Foundation, alla "Cité des Sciences et de l'Industrie" di Parigi (che nel 1992 gli ha dedicato la mostra personale "Sculpter l'invisibile"), nonché in numerose e importanti collezioni private, tra cui la Fondazione Giuliano Gori a Santomato, la Collezione Panza di Biumo di Lugano e la VAF-Stiftung di Francoforte sul Meno, le cui opere sono in comodato presso il MART di Rovereto.
Tra le esposizioni più recenti ricordiamo la sala personale che la GAM di Torino gli ha dedicato nell'ambito del progetto "Surprise". Dello stesso anno è anche la mostra personale "Piero Fogliati. L'immagine nella rêverie" alla Osart Gallery di Milano. Nel 2016 l'omaggio del MAC - Museo di Arte Contemporanea di Lissone, con la mostra "Teoria del pluriverso" curata da Alberto Zanchetta.
Piero Fogliati si è spento a Torino il 25 marzo 2016, all'età di 86 anni.
Piero Fogliati
Canelli 1930 - Torino 2016
Hailing from the small town of Canelli in Piedmont, Italy, Piero Fogliati hasmainly lived and worked in Turin. He began his career as an artist in the 1950s, experimenting as a self-learner with pictorial expression, both figurative and abstract-informal. His search for a personal style and his confidence in the autonomy of the artistic language very soon combined with his great passion for science and technology: he explores sensory perception and natural phenomena (light, sound and colour in particular), he reproduces them by building his extraordinary machines, he channels them towards the sublime and refined aesthetics of his visual and sound images.
With his work Fogliati evokes the amazement of an apparition, merges beauty and perception, thus demonstrating his trust in imagination and his sincere and joyful love for mankind. The artist's pieces are linked to the design and creation of the Città Fantastica (Fantastic City), a series of interventions on urban space in which the sounds, lights and waterways of the city are transformed for its inhabitants in aesthetic and sensory experiences (such as L'Auditorium a Rumore, Il Tempio della Luce, Il Boomerang Acustico), a "global dream" that Fogliati developed from the beginning of the 1960s. In this period he held his first solo exhibitions in Florence, Rome and Turin, culminating with his participation in
two Venice Biennials, in 1978 and 1986 (the latter devoted to the theme "Art and Science"), to the Nagoya Biennial (Japan) in 1997, and finally with the great 2006 exhibition "FASTER! BIGGER! BETTER! Signet works of the collections" on contemporary art from the last fifty years at the Contemporary Art Museum of the ZKM in Karlsruhe. Success in his hometown of Turin came in 2003 with the beautiful retrospective "Piero Fogliati poet of light".
His work is on display at Turin's and Bolzano's Modern Art Gallery, Cagliari's Municipal Gallery, MACRO in Rome, ZKM in Karlsrhue, Technorama der Schweiz Museum in Winterthur, Musée de l'energie electrique in Mulhouse, the AT&T Foundation and the "Cité des Sciences et de l'Industrie" in Paris (the latter also held a solo exhibition of Fogliati's work entitled "Sculpter l'invisible", sculpting the impossible, in 1992). It is also part of several private collections, such as the Giuliano Gori Foundation in Santomato, the Panza di Biumo collection in Lugano, and the VAFStiftung in Frankfurt am Main, whose works are now on loan at MART in Rovereto.
Amongst his most recent exhibitions we can enumerate the personal room dedicated to him by the GAM in Turin and the solo show "Piero Fogliati. L'immagine nella rêverie", dating from the same year, held at Osart Gallery, Milan. In 2016 the MAC (Museum of Contemporary Art) in Lissone dedicated him the show "Teoria del pluriverso", curated by Alberto Zanchetta.

Piero Fogliati died at 86 in Turin on 25th March 2016.
Esposizioni personali / Solo exhibitions

2022
Milano, Lorenzelli Arte, Luce e suono. L'utopia di Piero Fogliati
2021
Milano, Osart Gallery, Piero Fogliati

2020
Bologna, Artefiera, Reale Virtuale
2018
Milano, Sotheby's Milano - Palazzo Serbelloni, La città fantastica di Piero Fogliati
2017
Riehen, Kunst Raum Riehen, Piero Fogliati. Visions and dreams
2016
Milano, Dep Art, Piero Fogliati Eterotopia
Lissone, MAC, Piero Fogliati. Teoria del pluriverso
2014
Torino, GAM Galleria Civica d'Arte Moderna e Contemporanea, Surprise
Milano, Osart Gallery, PIERO FOGLIATI. L'immagine nella rêverie
2013
Livorno, Galleria Peccolo, PIERO FOGLIATI-disegni
2012
Torino, Gagliardi Art System, Piero Fogliati
2011
Milano, Galleria Monopoli, Piero Fogliati. Subtile
2009
Giarole, Castello Sannazzaro, Fotofoneide
2008
Torino, Claudio Bottello Contemporary, La città fantastica
Valenza, Lara & Rino Costa arte contemporanea
2007
Pistoia-Fattoria di Celle, Collezione Gori, Piero Fogliati. Utopia possibile?
2004
Valenza, Galleria Rino Costa
2003
Torino, Tendoni di Ponte Mosca, Piero Fogliati il poeta della luce
2002
Casale Monferrato, Galleria Rino Costa
1996
Mulhouse, Musée de l'Électricité
1994
Casale Monferrato, Galleria Rino Costa
1993
Paris, Galerie Luc Queyrel, Reel-Virtuel
1992
Paris, Musée de la Villette, Sculpter l'Invisible
1989
Milano, Valeria Belvedere
1982
Pesaro, Galleria Deposito Figure, Luce e Vento
1981
Genève, Galerie Voir
1974
Roma, Galleria dell'Obelisco
1972
Torino, Galleria Martano
1971
Milano, Galleria del Naviglio
1970
Firenze, Galleria d'Arte Moderna Il Fiore
Roma, Studio Farnese
1957
Torino, Saletta metro Cristallo, 15 quadri di Piero Fogliati