Imi KNOEBEL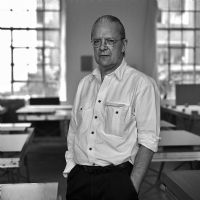 Imi Knoebel (nato Klaus Wolf Knoebel)
Dessau, Germania, 31 dicembre 1940
La pittura e scultura ibrida e minimalista di Imi Knoebel esplora le relazioni tra colore e struttura. Knoebel ha studiato sotto la guida di Joseph Beuys all'Accademia d'Arte di Düsseldorf, indicando la via della sua prima importante opera Raum 19 (1968), in ricordo del numero della classe di Beuys.
Le problematiche stilistiche e formali con cui Knoebel confronta il suo lavoro possono essere associate ai principi modernisti di Kazimir Malevich e la Bauhaus.
Mentre i suoi primi lavori erano in bianco e nero, ad esempio la serie Linienbildern (1966-69), nel 1974 inizia a utilizzare colori vivaci e saturi, insieme all'amico e compagno di classe Blinky Palermo, a cui dedicherà 24 Farben für Blinky ("24 colori per Blinky") (1977), una serie di forme irregolari dai colori vivaci e saturati.
Negli anni Ottanta dà vita alla serie di "Ritratti", formati da tre rettangoli verticali e due orizzontali, arrangiati di volta in volta in diverse nuances di colori. Nel 1988, realizza Kinderstern, una scultura sociale, seguendo l'esempio del maestro Beuys secondo cui l'arte ha un ruolo anche sociale e deve puntare a cambiare la società.
La serie "Anima Mundi" ha una posizione particolare fra le opere di Knoebel, in quanto il loro titolo prende spunto da un termine filosofico ispirato alla Venere di Botticelli, alla luce degli insegnamenti di Plotino sull'anima. Al di là dal titolo, queste opere rispettano la qualità formale dell'arte non-rappresentativa, e osservandole, queste possono portare a un altro cosmo per il quale la loro forma non è altro che estetica.
Forse il suo risultato più notevole e l'onore più significativo che gli è stato finora conferito è l'importante commissione di nove grandi vetrate per la Cattedrale di Reims installata nel 2011 e nel 2015.
Le sue opere si trovano in alcune delle più importanti collezioni private e pubbliche di tutto il mondo e sono state esposte in diverse mostre personali, tra cui il Museum Haus Konstruktiv, Zurigo, Svizzera (2018); Kunstsammlung Nordrhein-Westfalen, K21, Düsseldorf, Germania (2015); Neue Nationalgalerie, Berlino (2009); Dia:Beacon, New York (2008), e Hamburger Kunsthalle, Germania (2004), per citarne alcune.
Knoebel vive e lavora a Düsseldorf.
Imi Knoebel (born Klaus Wolf Knoebel)
Dessau, Germany, 31 December 1940
Imi Knoebel's minimalist hybrids of painting and sculpture explore relationships between color and structure. Knoebel studied under Joseph Beuys at the Düsseldorf Art Academy which also inspired his first important work Raum 19, honouring the number of Beuys' classroom.
The stylistic and formal concerns of Knoebel's work can be associated with the modernist principles of Kazimir Malevich and the Bauhaus. While his early pieces were black and white, as in the series Linienbildern (Line Paintings) (1966-69), he began to employ vibrant, saturated color in 1974 with his friend and classmate Blinky Palermo, to whom he would dedicate 24 Farben für Blinky ("24 Colors for Blinky") (1977), a series of brightly colored irregular shapes. In the '80s, Knoebel produced his series of Portraits, made up of three vertical rectangles and two horizontal ones, arranged in different nuances of colours from time to time.
In 1988, he created Kinderstern, a social sculpture that followed the example of his master Beuys according to whom art should also have a social role and should aim at changing society.
The "Anima Mundi" series has a particular position among Knoebel's works of art, as their title borrows a philosophical term inspired by Botticelli's Venus in the light of Plotinus's teachings on the soul. Apart from the title, they respect the formal elements of non-representational art, and when solely beholding these works, they may lead to another cosmos for which their form is merely aesthetic.
Perhaps his most notable achievement and the most significant honour bestowed on him to date, is the major commission of nine large stained-glass windows for the Reims Cathedral installed in 2011 and 2015.
His works can be found in some of the most important private and public collections all over the world and were shown in several solo shows, including Museum Haus Konstruktiv, Zurich, Switzerland (2018); Kunstsammlung Nordrhein-Westfalen, K21, Düsseldorf, Germany (2015); Neue Nationalgalerie, Berlin (2009); Dia: Beacon, New York (2008), and Hamburger Kunsthalle, Germany (2004), to mention a few.
In 1996 the Haus der Kunst in Munich organized a wide retrospective show, later travelling around various European locations such as the Stedelijk Museum in Amsterdam and the Institute of Modern Art in Valencia.
Knoebel lives and works in Düsseldorf.
Esposizioni personali / personal exhibitions
2020
London, White Cube Bermondsey, Imi Knoebel Recent Works
2019
Berlin, Kewenig Galerie, Imi Knoebel: Dass Die Geschichte Zusammenbleibt
Seoul, Leeahn Gallery, Big girl and friends
Düsseldorf, Schacky Art & Advisory, Imi Knoebel - Works from Private Collections
Knokke-Zoute, Patrick De Brock Gallery, Imi Knoebel
Munich, Jahn und Jahn, Imi Knoebel. Tafelbilder (Panel Paintings)
Berlin, Galerie Fahnemann, Imi Knoebel - New works
2018
Berlin, Galerie Fahnemann, Imi Knoebel: Fishing
Otegem, Deweer Gallery, Imi Knoebel
Colonia, Galerie Christian Lethert, Imi Knoebel
Zurigo, Museum Haus Konstruktiv, Imi Knoebel – Till Velten
2017
Frankfurt, Galerie Bärbel Grässlin, Imi Knoebel: VEB Kontor
Vienna,Galerie nächst St. Stephan Rosemarie Schwarzwälder
2016
Paris, Galerie Thaddeus Ropac, Galerie Caroline Smulders, Drawing Now
Brussels, Galerie Stepahnaie Jaax
Paris, Galerie Thaddaeus Ropac
Leipzig, Museum der Bildenden Künste, Musée National Fernand Léger
2015
Frankfurt am Main, Galerie Bärbel Grässlin,
Düsseldorf, Malewitsch zu Ehren, Kunstsammlung Nordrhein-Westfalen
Krefeld, Museum Haus Esters
London ,White Cube
2014
Cologne,Galerie Christian Lethert
Wolfsburg, Kunstmuseum
2013
Cologne, Kunstasammlungen Chemnitz
Frankfurt am Main, Galerie Barbel Grasslin
2011
Sindelfinger, Schauwerk Sindelfinger
Bielefeld, Galerie nachst St. Stephan Rosemarie Schwarzwalder
2010
Salzburg, Galerie Thaddaeus Ropac
Frankfurt am Main, Galerie Barbel Grasslin
The Hague, Gemeentemuseum
Roma,Giacomo Guidi Arte Contemporanea
New York, Mary Boone Gallery
2009
Ostfildern, Deutsche Guggenheim Berlin
New York, Mary Boone Gallery
Hamburg, Hamburger Bahnhof
Berlin, Neue Nationalgalerie
2008
New York, Dia: Beacon
New York, Dia Art Foundation, The Dan Flavin Art Institute, Bridgehampton
2007
Bielefeld, Ludwigshafen am Rhein
Luwigshafen am Rhein, Wilhelm-Hack-Museum,
Madrid, Galeria Helga de Alvear
San Francisco, Museum of Modern Art, Project, Transform, Erase: Anthony McCall and Imi Knoebel
2006
Leeds, Henry Moore Institute
2005
Weimar, Kunsthalle Weimar Harry Graf Kessler
2004
Zurich, Galerie Lelong
Hamburg, Hamburger Kunsthalle
2003
Cologne, Kunstverein Braunscheweig
Madrid, Galeria Helga de Alvear
2002
Hannover, Kestner Gesellschaft
Brunswick, Kunstverein Braunschweig
Milano, Galleria Ala, Milano Paintings
2001
Paris, Galerie Thaddaeus Ropac
Frankfurt am Main, Galerie Barbel Grasslin
1999
Cologne, Kunstmuseum St. Gallen
1998
Salzburg, Galerie Thaddaeus Ropac
Schaan, Galerie am Lindenplatz
1997
Valencia, IVAM Centre del Carme
Düsseldorf, Kunsthalle Düsseldorf
Lucerne, Kunstmuseum Luzern
Grenoble, Musée de Grenoble
Madrid, Galeria Helga de Alvear
1996
Ostfildern-Ruit, Museé de Grenoble
Aachen, Ludwigforum
Munich, Haus der Kunst
Amsterdam, Stedelijk Museum
Valencia, IVAM - Instituto Valenciano de Arte Moderno, Retrospektive 1968-1996
Cologne, Aachen
Luxembourg, Deutsche Bank
1995
Ljubljana, Moderna galerija
London, Goethe-Institut Gallery
Sundern, Stadtgalerie Kulturring
1994
Tochigi, Prefectural Museum of Fine arts
Berlino, Galerie Fahnemann
Utsunomiya, Tochigi Prefectural Museum of Fine Art
Kassel, Museum Fridericianum
Chemnitz, Städtische Kunstsammlungen
1993
Berlino, Galerie Fahnemann
Quakenbrück, Städtische Galerie
1992
Darmstadt, Hessisches Landesmuseum
Hamburg, Deichtorhallen
Darmstadt, Hessisches Landesmuseum
Maastricht, Bonnefantenmuseum
1991
Taura, Akira Ikeda Gallery
Berlino, Galerie Fahnemann
Vienna, Galerie Nächst St. Stephan
New York, Barbara Gladstone Gallery
Milano, PAC Padiglione d'arte Contemporanea
1989
Maastricht, Bonnefantenmuseum
1988
Antwerp, Museum van Hedendaagse Kunst
1987
Zurich, Galerie Bruno Bischofberger
New York, Dia Art Foundation
1986
Baden-Baden, Staatliche Kunsthalle Baden-Baden
1985
La Roche sur Yon, Musée Municipal
Otterlo, Rijksmuseum Kröller-Müller
1984
Tokyo, Galerie Kanransha
Mönchengladbach, Städtisches Museum Abteiberg
Duisburg, Lehmbruck Museum
New York, Tony Shafrazi Gallery
1983
Köln, Dia Art Foundation
Winterthur, Kunstmuseum Winterthur
Bonn, Kunstmuseum Bonn
1982
Eindhoven, Stedelijk Van Abbemuseum
1981
Bonn, Galerie Klein
Köln, Dia Art Foundation
1979
Munich, Galerie Heiner Friedrich
1978
Munich, Galerie Heiner Friedrich
1977
Munich, Galerie Heiner Friedrich
1976
Köln and Munich, Galerie Heiner Friedrich
1975
Düsseldorf, Städtische Kunsthalle Düsseldorf
1974
Munich, Galerie Heiner Friedrich
1973
Munich, Galerie Heiner Friedrich
1972
Amsterdam, Stedelijk Museum
1971
Munich, Galerie Heiner Friedrich
1970
Amsterdam, Art & Projekt
1969
Bremerhaven, Kabinett für aktuelle Kunst
1968
Copenhagen, Imi &Imi