Alighiero BOETTI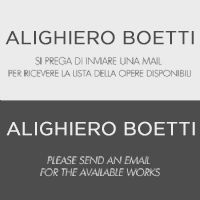 Alighiero Boetti
Torino 1940 - Roma 1994
Alighiero e Boetti, come si firmò a partire dal 1973, nacque a Torino dove esordì nell'ambito dell'Arte Povera nel 1967. Nel 1972 si trasferì a Roma, città in cui scoprì il piacere della luce e dei colori lontani dall'austerità torinese. Già l'anno precedente però scoprì l'Afghanistan e avviò il lavoro artistico che affidò alle ricamatrici afghane, tra cui le Mappe, planisferi colorati che egli ripropose lungo gli anni come registro dei mutamenti politici del mondo. Artista concettuale, versatile e caleidoscopico, produsse una grande varietà di tipologie di opere, e per alcune delegò l'esecuzione manuale ad altri, ma sempre secondo certe regole del gioco ben precise. Nacquero così i Monocromi a biro (blu, neri, rossi, verdi) in cui la campitura tratteggiata su carta mise in scena il linguaggio, e lo stesso valse per tutte le opere ricamate su stoffa, non solo le Mappe del mondo, ma anche certe composizioni di lettere, sempre quadrate e multicolore sul modello Ordine e disordine. Infine, i Tutto, fitti puzzle in cui si ritrova davvero di tutto: dalle figure da rotocalchi agli oggetti da scrivania. Altre tipologie di opere di Boetti furono invece di mano esclusivamente sua. Ad esempio, i Lavori postali, giocati sulla permutazione matematica dei francobolli, sull'aleatoria avventura del viaggio postale e, a partire dagli anni Ottanta, sulla segreta bellezza dei fogli inviati nelle buste. Oppure nei primi anni Settanta, i tanti 'esercizi' a matita su carta quadrettata, basati su ritmi musicali o matematici. Infine, negli anni Ottanta e Novanta, le composizioni colorate e di tecnica mista su carta, in cui scorrono schiere di animali, memori della decorazione etrusca o pompeiana. Il tempo, con il suo scorrere affascinante e ineluttabile, è forse il tema unificante nella pluralità tipologica e iconografica di Boetti. Tra le ultime opere alcune sono monumentali, come i 50 arazzi con testi in italiano e persiano, esposti a Parigi nella mostra 'Les Magiciens de la terre' del 1989, oppure i 50 khilim esposti al Magasin di Grenoble a dicembre 1993, che furono integrati nell'ultima mostra inaugurata con la presenza dell'artista, allora già molto malato. Alighiero Boetti espose nelle mostre più prestigiose e emblematiche della sua generazione, da 'When attitudes become form' (1969) a 'Contemporanea' (Roma, 1973), da 'Identité italienne' (Parigi, 1981) a 'The italian metamorphosis 1943-1968' (Guggenheim Museum New York, 1994). Fu presente sei volte alla Biennale di Venezia, con sala personale che venne premiata nell'edizione del 1990, e un omaggio postumo nel 2001. La sua opera nonché le sue scelte in quanto artista hanno fortemente influenzato la generazione successiva e molti giovani del nuovo millennio, in Italia e nel mondo.
Morì a Roma il 24 Febbraio 1994.
Alighiero Boetti
Turin 1940 - Rome 1994
Alighiero e Boetti (e stands for and), as the artist used to sign his works starting from 1973, was born in Turin, where he began his activity by joining the Arte Povera movement in January 1967. In 1972, he moved to Rome where he discovered the pleasure of light and colours, far away from the austerity of Turin. In 1971, he discovered Afghanistan, and in Kabul started an artistic collaboration with women embroiderers by creating tapestries such as his political Maps, which would evolve according to the world's political mutations. As a conceptual and versatile artist, he produced a great variety of artworks, delegating to other people the manual execution of some specific typologies, but following very precise "rules of the game" and even high principles. Among such pieces, the ballpoint pen Monochromes (blue, black, red, green), in which a white coded writing comes out of the evenly doodled coloured surface, or the tapestries embroidered on cloth, not only the World Maps, but also certain compositions of letters, always squared and multicolored, on the model Order and disorder. Also, the Tutto (Everything), dense puzzles where indeed everything can be found: newspaper silhouettes, figures of animals and shapes of domestic objects... Other types of Boetti's works are exclusively executed by his own hand: for example, his Postal Works, which play on the mathematical permutation of different stamps and on the unpredictable adventure of a postal journey, and also, starting from 1980, on the hidden charm of written messages travelling inside the envelopes. Furthermore, his early 1970s systematic 'exercises' made by pencil on squared paper, based on musical and mathematical rhythms. Finally, throughout the Eighties and Nineties, there is his mixed technique on paper, and in particular his colourful compositions with happy flocks of animals sliding along, made with an explicit reminiscence of Etruscan or Pompeian ornaments. Time, with its fascinating and ineluctable passing by, probably is the unifying topic in Boetti's typological and iconographical plurality. Among the latest works some are indeed monumental, such as the fifty-one tapestries with Italian and Persian texts (shown in Paris, at 'Les Magiciens de la Terre' exhibition, 1989), or else the fifty kilims exposed at the Magasin in Grenoble in December 1993, the last exhibition inaugurated in presence of the artist, who was very ill at the time. Alighiero Boetti showcased his works in the most prestigious and emblematic exhibitions of his generation, from 'When Attitudes Become Form' (1969) to 'Contemporanea' (Rome 1973), from 'Identité Italienne' (Paris, 1981) to 'The Italian Metamorphosis 1943-1968' (Guggenheim Museum New York, 1994). His works were exhibited at six editions of the Venice Biennale, where his personal exhibition room in the 1990 edition was awarded with a special prize; also a posthumous homage show was presented in the 2001 edition. Not only his works, but his choices as an artist, strongly influenced the following generation of artists and many young people of the new millennium, both in Italy and in the world.
He died in Rome on February 24th, 1994.
Alighiero Boetti: Mostre personali / Solo exhibitions
2023
London, Robilant+Voena, Alighero Boetti Mappe
2022
Roma, Gladstone Gallery - Sant'Andrea de Scaphis, Aligherio e Boetti
New York, Leo Koenig, Alighiero Boetti - Sigmar Polke, The travels of alchemists
2021
Hong Kong, Ben Brown Fine Arts, Alighiero Boetti
Zurich, Larkin Erdmann Gallery, Alighiero Boetti: Magic Squares
Todi, Tower Gallery, Alighiero Boetti 12 Boetti 15 "Un Caro salute... scusa per il ritardo!"
Switzerland, Saint Moritz, Galerie Andrea Caratsch, Alighiero Boetti - Works 1977-1991
Milano, Tornabuoni arte, Salman Ali Ghiero Boetti
Paris, Tornabuoni Art, Alighiero Boetti, Thinking About Afghanistan
Torino, VideotecaGAM, Alighiero Boetti
2020
Milan, Galleria Christian Stein, Alighiero Boetti
Milan, Massimo de Carlo, Casa Corbellini-Wasssermann, Carl Andé - Alighiero Boetti, Chess Game
2019
New York, Ben Brown Fine Arts, Alighiero Boetti: Embroideries Including Mappas, Tuttos And A Rug
L'Aia, Gemeentemuseum Den Haag, Alighiero Boetti. Arazzi
Ciudad de Mexico, Travesia Cuatro, Alighiero e Boetti e Mario e Garcia Torres
London, Tornabuoni art, Alighiero Boetti, Decoding His Universe: Works on Paper (1968-1991)
Switzerland, Rossinière, Marc Jancou, Marie Hazard. Alighiero Boetti
2018
Milano,Dep Art Gallery, Alighiero Boetti. Il mondo fantastico
Asti, Fondazione Palazzo Mazzetti, Alighiero Boetti. Perfiloepersegno
2017
Lugano, MASI Museo d'arte della Svizzera italiana, Boetti / Salvo. Vivere lavorando, giocando
San Giorgio Maggiore, Fondazione Giorgio Cini, Alighiero Boetti: Minimum/Maximum
Paris, Tornabuoni Art, Alighiero Boetti
London, Sprovieri, Alighiero Boetti
2016
Londra, Tornabuoni Art, Alighiero Boetti
New York, Gladstone Gallery, TUTTO
Londra, Ben Brown Fine Arts, Alighiero Boetti: Embroideries
Bruxelles, Galerie Maruani Mercier, Alighiero Boetti
Firenze, Accademia delle Arti del Disegno, Alighiero Boetti. Il filo del pensiero
New York, Totah Gallery, Bochner and Boetti. Verba Volant. Scripta Manent
2015
Londra, Mazzoleni Art, Alighiero Boetti
New York, Ierimonti Gallery, Alighiero e Boetti: Insicuro Noncurante
Londra, Luxembourg & Dayan, Alighiero Boetti: A Private Collection
Karlsruhe, Meyer Riegger Karlsruhe, Alighiero Boetti
Palma de Mallorca, Pelaires Centre Cultural Contemporani, Alighiero Boetti
2014
Milano, Galleria Christian Stein, Alighiero Boetti tra se e se abbracciare il mondo
Napoli, CASAMADRE, Alighiero Boetti tra se e se abbracciare il mondo
Londra, Luxembourg & Dayan, i Colori
Knokke- Heist, Patrick de Brock Gallery, Alighiero Boetti
2013
Ginevra, Galerie Guy Bartschi, Alighiero Boetti – Alighiero e Boetti
Roma, Museo Nazionale delle arti del XXI secolo, Alighiero Boetti a Roma
Doha, Katara Cultural Village Foundation, Alighiero Boetti
Milano, Studio Giangaleazzo Visconti, Alighiero e Boetti
Beacon, Dia Beacon, Reggio Galleries, Alighiero e Boetti
2012
Londra, Tate Modern, Alighiero Boetti: Game Plan
New York, Museum of Modern Art, Alighiero Boetti: Game Plan
Los Angeles, University of California Los Angeles Fowler Museum of Cultural History, Order and Disorder: Alighiero Boetti by Afghan Women
Londra, Sprüth Magers, Alighiero Boetti
Hong Kong, Ben Brown Fine Arts, Alighiero Boetti
2011
New York, MOMA - Museum of Modern Art
London, Tate Modern London
Madrid, Museo Nacional De Arte Reina Sofia, Alighiero Boetti Game Plan
2010
Berlino, Sprüth Magers, Alighiero e Boetti: Insicuro Noncurante
Parigi, Tornabuoni Art, Alighiero Boetti
Milano, Galleria 1000eventi, Alighiero Boetti. Da singolare a plurale e viceversa
New York, Marianne Boesky Gallery, Alighiero Boetti
2009
New York, Gladstone Gallery, Alighiero e Boetti: Mappa
Napoli, Museo d'Arte Contemporanea Donna Regina, Alighiero e Boetti
Bruxelles, Galerie Vedovi, Alighiero e Boetti
Alassio, Ex Chiesa Anglicana, Alighiero Boetti
2008
Waldenbuch, Museum Ritter, Order and Disorder
2007
New York, Gladstone Gallery, Alighiero e Boetti
2006
London, Ben Brown Fine Arts, Alighiero Boetti: Un Pozzo Senza Fine: Embroideries
Milano, Studio Giangaleazzo Visconti, Alighiero Boetti
Milano, Alighiero E Boetti. Insicuro Noncurante, Le Case D'arte
Milano, Galleria 1000eventi, Alighiero Boetti
Roma, Galleria Alessandra Bonomo, Alighiero e Boetti. Dru gu choegyal rinpoche. Acharya viakul
2005
New York, Esso Gallery, Shaman/Showman
Cosenza, Galleria Nazionale di Palazzo Arnone, Alighiero e Boetti
Vaduz, Kunstmuseum Liechtenstein, Niente e tutto: seguire il filo del discorso
Milano, Zonca & Zonca, 67/77 Boetti Salvo
Köln, Galerie Monika Sprüth – Philomene Magers, Alighiero E Boetti Insicuro Noncurante
2004
Nürnberg, Galleria Nazionale d'Arte Moderna, Alighiero Boetti
New York, Barbara Gladstone Gallery, Alighiero e Boetti
Bergamo, Galleria d'Arte Moderna e Contemporanea, Quasi tutto
Torino, Carlina Galleria d'Arte, Dall'oggi al domani
Roma, Galleria Nazionale d'Arte Moderna, Alighiero Boetti Tuttolibro
Chiari, Galleria d'Arte L'Incontro, Alighiero Boetti – Attirare l'attenzione
Zurigo, Caratsch de Pury & Luxembourg, Alighiero e Boetti
2003
Dijon," FRAC de Bourgogne, Alighiero e Boetti, Ordere et désordre du mond-ouvres 1967-1990
2002
Minerbio, Villa Paleotti Isolani, Alighiero Boetti
Houston, Contemporary Arts Museum, When 2 is 1: the art of Alighiero e Boetti
Monaco, Sprüth Magers, Works 1966-1988
New York, Sperone Westwater, Simmetria Asimmetria
Chicago, The Arts Club of Chicago, Alighiero e Boetti
Londra, SPROVIERI, ALIGHIERO BOETTI. works on paper
Londra, 38 Langham Street, Alighiero Boetti. Insecure Unconcerned
2001
Ginevra, Galerie Guy Bärtschi, Alighiero e Boetti
Venezia, 44° Esposizione Internazionale d'Arte, La Biennale di Venezia, Alighiero Boetti: Niente da vedere niente da nascondere
New York, Sperone Westwater, Untitled - Victoria Boogie Woogie (1972) and Selected Early Works
Stoccarda, Galerie Kaess-Weiss, Alighiero e Boetti
New York, Gagosian Gallery, Alighiero e Boetti
2000
Milano, Galleria 1000eventi, Da Alighiero Boetti ad Alighiero e Boetti
Stoccarda, Galerie Kaess-Weiss, Alighiero e Boetti
New York, Barbara Gladstone Gallery, Works on Paper, 1967-1989
Parigi, Institut National des Sciences Appliquées, Alighiero Boetti: Une monographie
1999
Sarajevo, Centar Skenderija, Ars Aevi 2000
Chicago, Museum of Contemporary Art, Unfinished History
New York, Barbara Gladstone Gallery, Alighiero e Boetti, Hanne Darboven, Sol Lewitt
Villeurbanne, Insitut d' Art Contemporain, L'Envers du Décor, Dimensions decoratives dans l'art du XXE siecle
Roma, Galleria Fontanella Borghese, Alighiero e Boetti: Le parole a le cose
New York, Esso Gallery, Alighiero e Boetti: Masterworks on Paper 1967- 1984
Roma, La Nuova Pesa, Alighiero Boetti: Specchio cieco
Londra, Laure Genillard Gallery, Alighiero e Boetti
Londra, Whitechapel Art Gallery, Alighiero e Boetti
Ginevra, Galerie Guy Bärtschi, Alighiero Boetti
Stoccarda, Galerie Kaess-Weiss, Alighiero e Boetti
Milano, Galleria Seno, Alighiero Boetti
Torino, Galleria Martano, Alighiero Boetti: Opere 1965-1992
Milano, Galleria ARTRA, Alighiero Boetti "territori occupati
München, Galerie Karl Pfefferle, Alighiero E Boetti
Trieste, Galleria ARTE 3, Alighiero Boetti
1998
Francoforte, Museum für Moderne Kunst, Alighiero e Boetti: Mettere al mondo il mondo
Köln, Monika Sprüth Galerie, Alighero e Boetti. WELTKARTEN
Francoforte sul Meno, Arte Giani, Alighiero Boetti
Stoccarda, Galerie KAESS-WEISS, Alighiero E Boetti
Nürnberg, Galerie Carolin Lindig in Paludetto, Alighiero E Boetti
Annandale-on-Hudson, Center for Curatorial Studies – Bard College, Alighiero e Boetti. Calendar collages and postal drawings from the LeWitt collection
1997
Parigi, Galerie Durand-Dessert, Onze oeuvres de 1965 à 1990
New York, Esso Gallery, Postal travels, works on paper, embroideries, documents and more, 1965-1992
Vienna, Galerie H.S. Steinek, Alighiero Boetti
Badenweiler, Galerie Dr. Luise Krohn, Alighiero E Boetti
Köln, Trinitatiskirche, ALIGHIERO E BOETTI. Alternando da 1 a 100 e viceversa
Parigi, Liliane & Michel Durand-Dessert, Alighiero E Boetti. onze œuvres de 1965 à 1990
Milano, Fabia Calvasina Arte Contemporanea, Alighiero Boetti
Trento, Galleria d'Arte Il Cenacolo, Alighiero e Boetti
1996
Torino, Galleria Civica d'Arte Moderna e Contemporanea, Alighiero Boetti 1965-1994
Villeneuve d'Ascq, Musée d'Art Moderne, Alighiero Boetti 1965-1994
Vienna, Museum Moderner Kunst Stiftung Ludwig, Alighiero Boetti 1965-1994
Dunkerque, FRAC Nord Pas de Calais, Harmonies Combinatoires
Torino, Galleria Christian Stein, Alighiero Boetti 1967
Roma Galleria Nazionale d'Arte Moderna, L'opera ultima
Stoccarda, Galerie Kaess-Weiss, Alighiero e Boetti
Milano, Galleria Massimo De Carlo, Alighiero e Boetti
Ginevra, Galerie Guy Bärtschi, Alighiero e Boetti
Malo, Museo Casabianca, Alighiero Boetti
Edinburgo, Istituto Italiano di Cultura, Alighiero e Boetti
Parigi, Krief Galerie d'Art Contemporain, Alighiero e Boetti
Dunkerque, FRAC Nord-Pas de Calais, Alighiero Boetti. Harmonies Combinatoires
New York, Holly Solomon Gallery, Alighiero e Boetti
Terni, Ronchini Arte Contemporanea, Alighiero Boetti 1970-1994
Roma, Galleria nazionale d'arte moderna, Alighiero e Boetti. L'opera ultima
1995
New York, Peter Blum Gallery, Richard Long Somerset Willow Line, Alighiero e Boetti The Thousand Longest Rivers in the World
Lyon, Lumierè Lyon 2, Tutto
New York, Sperone Westwater, Untitled (Self-portrait+Ten Embroideries)
Colonia, Galerie Monika Sprüth, Alighiero e Boetti, opere dal 1970 al 1994
Milano, Galleria Renato Cardi, Frammenti di fregio
New York, Dia Center for the Arts, Worlds Envisioned: Alighiero e Boetti and Frédéric Bruly Bouabré
Parigi, American Center, Alighiero e Boetti and Frédéric Bruly Bouabré
Lecco, Galleria Melesi, Alighiero Boetti. Arazzi
1994
Bruxelles, Palais des Beaux-Arts, Origine et Destination: Alighiero e Boetti & Marin Huebler
Toronto, Instituto Italiano di Cultura, Arazzi: Alighiero e Boetti e Mimmo Paladino
Parigi, Musée de la Poste, Oeuvre postale 1993: de bouche à oreille
Los Angeles, Museum of Contemporary Art, Alternating 1 to 100 and Vice Versa
Hasselt, Provinciaal Museum, Alighiero e Boetti
Lille, Fond Regional d'Art Contemporain, Nord Pas-de-Calais, Arazzi del tempo nello spazio, Alighiero Boetti, Mimmo Paladino
Stoccarda, Galerie KAESS-WEISS, Alighiero e Boetti. Arbeiten von 1972-1992
New York, Dia Center for the Arts, Worlds Envisioned: Alighiero e Boetti and Frédéric Bruly Bouabré
Lugano, Studio d'Arte Contemporanea Dabbeni, Alighiero e Boetti. "Extra Strong"
Napoli, Dina Caròla Arte Contemporanea, Alighiero Boetti
1993
Torino, Galleria Christian Stein, Alighiero e Boetti
Grenoble, Le Magasin, Centre National d'Art Contemporain, De bouche à Oreille
Parigi, Centre Georges Pompidou – Musée National d'Art Moderne, Point De Mire. Alighiero e Boetti
1992
Roma,Galleria Giulia, Opere dal 1967 al 1991
Bari, Galleria Marilena Bonomo, Alighiero e Boetti, Biagio Cardarelli - Sedici accordi a tre mani
Berlino, Galerie Frank & Schulte, Alighiero e Boetti
Modena, Galleria Emilio Mazzoli, Alighiero e Boetti, Mimmo Paladino - Arazzi del tempo nello spazio
Colonia, Cordula von Keller, Alighiero e Boetti Private Works
Bonn, Bonner Kunstverein, Synchronizität als ein Prinzip akausaler Zusammenhänge
Münster, Westfalischer Kunstverein, Synchronizität als ein Prinzip akausaler Zusammenhänge
Lucerna, Kunstmuseum Luzern, Synchronizität als ein Prinzip akausaler Zusammenhänge
Caserta, Studio Oggetto, Alighiero Boetti. Opere 1960-1992
Köln, Monika Sprüth Galerie, Alighiero e Boetti. 50 + 1
Köln, Cordula Von Keller Contemporary Art, Alighiero e Boetti. Private Works
1991
Colonia, Galerie Leccese Sprüth, Alighiero e Boetti
Vienna, Galerie H.S. Steinek, Carte
New York, John Weber Gallery, Alighiero e Boetti
Milano, Galleria Rizzardi, Alighiero e Boetti
Bari, Galleria Marilena Bonomo, Alighiero e Boetti
Londra, Edward Totah Gallery, Alighiero e Boetti
Milano, Galleria Seno, Alighiero e Boetti
Biella, Galleria Dialoghi, Alighiero e Boetti
Milano, Galleria Seno, Alighiero e Boetti, Bugs Bunny
1990
Santa Cruz, Galeria Leyendecker, Alighiero e Boetti, Jiri Georg Dokoupil
Genova, Studio Leonardi, Alighiero e Boetti, Jiri Georg Dokoupil
Napoli, Galleria Lucio Amelio, Alighiero e Boetti
Firenze, Galleria M, Alighiero e Boetti
Parigi, Galerie Handrien Thomas, Alighiero e Boetti
Roma, Galleria Pio Monti, Alighiero e Boetti
Parigi, Charles Cartwright, Alighiero e Boetti
Parigi, Galerie Amelio Brachot-Pièce Unique, Passpartout Alighiero e Boetti
Venezia, La Biennale di Venezia
Stoccarda, Galerie Kaess-Weiss, Arazzi
Verona, Galleria Sant'Egidio, Alighiero e Boetti
Firenze, Galleria Studio R.G.B., Divine astrazioni
Padova, Galleria Mastrogiacomo, Alighiero e Boetti
New York, Salvatore Ala Gallery, Alighiero e Boetti
Bologna, Galleria Severiarte, Alighiero e Boetti
Roma, Monti Associazione Culturale, Alighiero e Boetti
Ginevra, Galerie Eric Franck, Alighiero e Boetti. Cent Broderies
Malo, Museo Casabianca, Alighiero e Boetti
1989
Bruxelles, Galerie Luciano Bilinelli, Alighiero e Boetti
Londra, Edward Totah Gallery, Alighiero e Boetti
Trento, Galleria d'Arte Improvvisazione Prima, Alighiero e Boetti
Milano, Galleria Franco Toselli, Alighiero e Boetti: Cieli ad alta quota
Vienna, Galerie H.S. Steinek, Arazzi
1988
Brescia, Galleria La Nuova Città, Alighiero e Boetti, opere dal 1974 al 1987
Milano, Galleria di Porta Ticinese, Alternando' tra tecniche diverse
Zurigo, Galerie Susan Wyss, Alighiero e Boetti
Venezia, Studio Barnabò, Inaspettatamente
Vienna, Galerie H.S. Steinek, Alighiero e Boetti
Roma, Galleria Pio Monti, Piopermariemonti
Milano, Massimo De Carlo Arte Contemporanea, Alighiero e Boetti. Opere 1968-1981
1987
Roma, Galleria Lucio Amelio, Tra sè e sè
Milano, Studio Casoli, Alighiero e Boetti
Milano, Galleria Christian Stein, Alighiero e Boetti
Roma, Galleria Alessandra Bonomo, Alighiero e Boetti
Ginevra, Galerie Eric Franck, Alighiero e Boetti
New York, John Weber Gallery, Alighiero e Boetti
Torino, Galleria In Arco, Giacomo Balla, Alighiero e Boetti-Opere su carta
Napoli, Lucio Amelio, Alighiero e Boetti
Torino, Eva Menzio – The Gallery, Alighiero Boetti. Trediciottobremillenovecentottantasette
1986
Lione, Le Noveau Musée de Villeurbanne, Insicurononcurante
Nizza, Vlla Arson, Insicurononcurante
Chagny, Galerie Pietro Sparta, Insicurononcurante
Amsterdam,Michael Klein Inc., Insicurononcurante
Eindhoven,Van Abbemuseum, Insicurononcurante
Zurigo, Galerie Susan Wyss, Esercizi 1986
Lecce, Galleria del Piccolo Museo, Alighiero e Boetti
Amsterdam, Michael Klein Inc., Alighiero Boetti. September 1986
1985
Milano, Studio Tre Architettura, Alighiero e Boetti, Dadamaino
Milano, Galleria Pero, Alighiero e Boetti carte 1984
Verona, Studio La Città, Alighiero e Boetti
Genova, Galleria Chisel, Alighiero e Boetti-Ammazzare il tempo
Roma, Galleria del Cortile, Una scimmia due scimmie
Roma, Palazzo Taverna, Alighiero e Boetti
Bari, Galleria Marilena Bonomo, Alighiero E Boetti. Arazzi
1984
Ginevra, Galerie Eric Frank, Euvres récentes
Torino, Galleria Franz Paludetto, Disegni:1984
New York, John Weber Gallery, Alighiero e Boetti
Ravenna, Pinacoteca Comunale, Alighiero e Boetti
Ravenna, Galleria 420 WB Arti Visive, Da uno a dieci
1983
Roma, Galleria Mario Pieroni, Molo, La jette, Piet-Piet
Torino, Galleria Giorgio Persano, I sei sensi
Torino, Galleria Franz Paludetto, I mille fiumi più lunghi del mondo
Milano, Padiglione d'Arte Contemporanea, Installazioni: Carla Accardi - Alighiero Boetti
Milano, Studio d'Arte Cannaviello, Carte
1982
Zurigo, Galerie Annemarie Verna, Alighiero e Boetti
Roma, Galleria Mario Diacono, Alighiero e Boetti
Roma, Architettura Arte Moderna di Roma/COOP, Duetto Alighiero Boetti & Ettore Sottsass
Milano, Galleria Franco Toselli, Clessidra, cerniera e viceversa – Pack
1981
Parigi, Galerie Chantal Crousel, Alighiero e Boetti 1965 - 1981
Brescia, Galleria Banco/Massimo Minini, La natura è una faccenda ottusa
Torino, Galleria Franz Paludetto LP220, Alighiero e Boetti
Torino, Galleria LP220, Ammazzare il tempo
Imola, Galleria d'arte "L'Incontro", Alighiero Boetti
1980
New York, Salvatore Ala, Alighiero e Boetti
Tokyo, ART AGENCY CO., Alighiero e Boetti
Brescia, Galleria Banco/Massimo Minini, La natura è una faccenda ottusa
1979
Gavirate, La festa dell'immaginario visivo, Chiostro di Voltorre, Alighiero e Boetti
Pistoia, Studio La Torre, Alighiero Boetti. I vedenti
Firenze, La Piramide, Alighiero e Boetti
Como, Circolo culturale, Alighiero e Boetti
Mantova, Il Chiodo Arte Contemporanea, Alighiero e Boetti
1978
Basel, Kunsthalle Basel, Alighiero e Boetti
Bologna, Galleria Mario Diacono, Alighiero e Boetti
Colonia, Galerie Paul Maenz
Roma, Galleria del Cortile, Il libro dei mille fiumi più lunghi del mondo
Roma, Galleria La Salita, Pas des deux
Roma, Galleria Giuliana De Crescenzo, Disegni 1978
Torino, Galleria Christian Stein, Alighiero e Boetti
1977
Roma, Galleria Marlborough, Segni e disegni, l'orologio annuale
Milano, Galleria dell'Ariete, Alighiero e Boetti
Ginevra, Centre d'Art Contemporain, Alighiero Boetti
Roma, Galleria Il Collezionista, Alighiero e Boetti in Collaborazione con Guido Fuga, disegnatore
Zurigo, Annemarie Verna, Alighiero e Boetti
Firenze, La Piramide/Multimedia, Alighiero e Boetti
1976
Milano, Studio Marconi, Insicuro Noncurante
Roma, Galleria d'Alessandro-Ferranti, Alighiero e Boetti. Insicuro noncurante
Brescia, Galleria Banco, Quadrare diagonando. Alighiero e Boetti
1975
New York, John Weber Gallery, Alighiero e Boetti
Napoli, Pasquale Trisorio, Boetti 1966
Monaco di Baviera, Galerie Area, Alighiero E Boetti. Zwei
Firenze Galleria Area
Roma, Gian Enzo Sperone, Alighiero Boetti. Per una storia naturale della moltiplicazione
Genova, Saman Gallery, Alighiero e Boetti
1974
Pesaro, Il Segnapassi Galleria d'Arte, Alighiero e Boetti. opere recenti 73-74
Lucerna, Kunstmuseum Luzern, Alighiero e Boetti
Zurigo, Annemarie Verna, Alighiero e Boetti
Torino, Galleria Sperone, Alighiero Boetti. Il progressivo svanire della consuetudine
1973
Bari, Galleria Marilena Bonomo
New York, The John Weber Gallery, Alighiero Boetti
Roma, Sperone Gian Enzo & Fischer Konrad, Alighiero Boetti. Mettere al mondo il mondo,
Milano, Galleria Toselli, Alighiero e Boetti
1972
Bruxelles, Galerie MTL, Alighiero e Boetti
Torino, Galleria Multipli, Alighiero Boetti
1971
Düsseldorf, Konrad Fischer, Alighiero Boetti 16 Drawings
Torino, Galleria Sperone, Alighiero Boetti. 12 Forme
1970
Milano, Galleria Toselli, Cimento dell'armonia e dell'invenzione
Torino, Galleria Gian Enzo Sperone, Alighiero e Boetti, 1970
Milano, Galleria Franco Toselli, Manifesto 1967
Brescia, Galleria Acme, Alighiero e Boetti
Monaco di Baviera, Galerie Heiner Friedrich, Alighiero e Boetti
1969
Torino, Galleria Gian Enzo Sperone, Una vetrata, Io che prendo il sole a Torino il 24-2-1969, Ritratto di Walter De Maria
1968
Torino, Galleria Christian Stein, Alighiero e Boetti
Milano, Galleria De Nieburg, Alighiero e Boetti
1967
Torino, Galleria Christian Stein, Alighiero e Boetti
Genova, Galleria La Bertesca, Alighiero e Boetti