DADAMAINO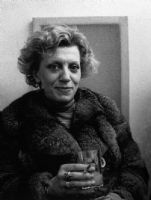 Da autodidatta, Edoarda Emilia Maino, conosciuta come Dadamaino, si avvicina al mondo dell'arte dopo gli studi in medicina, iniziando a frequentare il circolo artistico milanese del tempo. Nel 1959 dà vita, insieme a Piero Manzoni, Enrico Castellani e Agostino Bonalumi, alla rivista Azimuth e all'omonima galleria, vicina ai contemporanei gruppi europei come il Gruppo Zero in Germania, il Gruppo Nul in Olanda e il Gruppo Motus in Francia.
Alla fine degli anni Cinquanta riceve l'attenzione per i suoi "Volumi", una serie di tele in bianco e nero con grandi buchi forati, che ricordano i Buchi di Lucio Fontana.
Nei primi anni Sessanta si avvicina alle discipline matematico-scientifiche da cui prendono vita gli Oggetti ottico - dinamici, composizioni costituite da placchette metalliche fresate e sovrapposte fino a dare l'impressione di un flusso dinamico. Nello stesso periodo tiene una personale allo Studio N di Padova ed è presente alla "Sezione sperimentale" del XII Premio Lissone.
In questi anni è, insieme a Getulio Alviani, Bruno Munari, Raphael Soto e Enzo Mari, tra i fondatori del movimento della Nuova Tendenza, con cui partecipa a numerose rassegne internazionali, continuando parallelamente l'esplorazione e l'utilizzo di materiali nuovi come il plexiglass e l'alluminio.
Il massacro dei profughi palestinesi a Tall al Zaatar nell'estate del 1976 ispira Dadamaino a quello che diventerà il suo più consistente corpus di lavori: La Lettera a Tall al Zaatar da via all' Alfabeto della mente, segni alfabetici che da allora in poi ripeterò ossessivamente su tela in piccoli formati testuali.
Dal 1978 al 1981 le lettere incominciano ad occupare fogli di dimensioni sempre più grandi e colori diversi, quelli che Dadamaino chiamerà I fatti della vita che verranno esposte nella sala personale dedicategli alla Biennale di Venezia del 1980 e presso la grande antologica organizzata nel 1983 dal Padiglione d'Arte Contemporanea di Milano.
Dai primi anni Ottanta lavora al famoso ciclo delle Costellazioni, in cui i segni di addensano, si diramano e si sovrappongono in totale libertà, come preludio alla serie intitolata Movimento delle cose (1987-1993), presentata alla Biennale di Venezia del 1990.
Nel 2000 il Museo di Bochum dedica un'ampia antologica a Dadamaino, una delle artiste più progressive con una eclettica produzione.
Self-taught, Edoarda Emilia Maino, known as Dadamaino, was drawn to art after studying at medical school, when she began frequenting the Milanese artistic circle. In 1959, together with Piero Manzoni, Enrico Castellani and Agostino Bonalumi she founded the magazine Azimuth and the gallery of the same name, which had connections to contemporary European groups such as the Zero Group in Germany, the Nul Group in Holland and the Motus Group in France.
In the late 1950s, she received attention for her "Volumes", a series of black-and-white canvases, that featured large punctured holes, recalling Lucio Fontana's Buchi ("holes").
In the early Sixties, she approached mathematical-scientific disciplines that gave life to Oggetti ottico – dinamici, compositions consisting of superimposed milled metal plates that give the impression of a dynamic and constantly evolving flow. In the same period, she held a solo show at Studio N in Padua and was present at the "Experimental Section" of the XII Lissone Prize.
She went on to align with the newly founded Nouvelle Tendence movement, whose members included Getulio Alviani, Bruno Munari, and Jesus Rafael Soto, and participates in numerous international exhibitions, while continuing to explore and use new materials such as plexiglass and aluminum.
The massacre of Palestinian refugees in Tall al Zaatar in the summer of 1976 inspired Dadamaino to what would become her most consistent body of work: The Lettera a Tall al Zaatar gave way to Alfabeto della mente ("Alphabet of the Mind), alphabetical signs that she will obsessively repeat on canvas in small formats. From 1978 to 1981, the letters begin to occupy sheets of larger and larger sizes and different colours, what Dadamiano called I fatti della vita ("The facts of life"), which will be exhibited in a personal room dedicated to her at the 1980 Venice Biennale and at the large anthological exhibition organized in 1983 by the Padiglione d'Arte Contemporanea in Milan.
Since the early 1980s, she has worked on the famous cycle of the Costellazioni ("Constellations"), in which the signs thicken, branch out and overlap in total freedom, as a prelude to the series entitled Movimento delle cose ("Movement of Things"), presented at the Venice Biennale in 1990.
In 2000, the Museum of Bochum dedicated an extensive anthological exhibition to Dadamaino, one of the most progressive artists with an ecclectic production.
Esposizioni personali / personal exhibitions
2019
Milan, A Arte Invernizzi, Dadamaino. Dare tempo allo spazio
2018
New York, Mendes Wood DM
2017
São Paulo, Mendes Wood DM, Dadamaino
2015
Milano, A Arte Invernizzi, Dadamaino. Opere 1958-2000
2014
London, Sotheby's SI2
Asti, Fondo Giov-Anna Piras, Dadamaino 1963-2004
Firenze, Tornabuoni arte, Dadamaino
2013
Paris, Tornabuoni Art
Milano, Galleria del Credito Valtellinese, Dadamaino 1930-2004
Dijon, Le Consortium
2012
Milano, Cortina, Dadamaino, gli anni 70'. Rigore e coerenza
2011
London, The Major Gallery, Volumes 1958-60
Milano, Galleria Dep Art, Movimento delle cose
2010
Milano, Associazione Culturale Cortina, L'assoluta leggerezza dell'essere
2009
Bologna, Galleria Spazia, Dadamaino
Padova, A arte Invernizzi Seragiotto, Dadamaino Candeloro
2008
Milano, Galleria Cortina, Dadamaino. L'assoluta leggerezza dell'essere
Milano, Matteo Lampertico Arte Antica e Moderna, Boetti e Dadamaino: Immagine Somiglianza
2005
Milano, A arte Studio Invernizzi, Dadamaino. I fatti della vita
2003
Pietole, Museo Virgiliano, Dadamaino
2000
Bochum, Museum Bochum, Dadamaino. Retrospektive 1958-2000
1999
Perugia, Loggia dei Lanari, Cardinali, Dadamaino
1998
Morterone, Palazzo Municipale, Dadamaino. Opere 1975-1981
1997
Ozzano Monferrato, Borromini Arte Contemporanea, Dadamaino
Milano, A arte Studio Invernizzi, Dadamaino
Lugano, Studio d'Arte Contemporanea Dabbeni, Dadamaino. L'alfabeto della mente 1976-1979
1996
Zurigo, Stiftung für konstruktive und konkrete Kunst, Dadamaino. I fatti della vita
1994
Milano, A arte Studio Invernizzi, Dadamaino, François Morellet, Günther Uecker
Lugano, Studio d'arte contemporanea Dabbeni, Dadamaino
1993
Perugia, Centro Espositivo della Rocca Paolina, Trilogia 3. Dadamaino, Gastini, Bertasa
Milano, Galleria Federica Inghilleri, Disegni. Giovanni Anselmo. Dadamaino
Reutlingen, Stiftung für konkrete Kunst, Dadamaino. Werke 1958-1993
Mantova, Casa del Mantegna, Dadamaino. Opere 1958-1993
1991
Napoli, Framartstudio, Dadamaino. Il Movimento delle Cose
Alessandria, Il triangolo nero, Dadamaino. Interludio 1981
Lugano, Studio d'Arte Contemporanea Dabbeni, Dadamaino
1992
Milano, Framartstudio, Dadamaino. Punto d'energia
1990
Düsseldorf, Galerie Schöller, Dadamaino Gianni Colombo
Venezia, XLIV Esposizione Internazionale d'Arte La Biennale di Venezia, (sala personale), Dimensione futuro. L'artista e lo spazio
1989
Milano, Studio Reggiani, Dadamaino. Passo dopo passo 1987-1989
1988
Bologna, Studio G7, Dadamaino Giuseppe Spagnulo
1987
Bologna, N 2 / Nuova 2000, Dadamaino. Costellazioni
Stoccarda, Galerie Beatrix Wilhelm, Dadamaino. Arbeiten von 1958 bis 1968 und von 1986
1986
Varese, Villa Mirabello, Dadamaino, Gottardo Ortelli, Giancarlo Sangregorio
1985
Salò, Centro d'arte Santelmo, Dadamaino
Milano, Studio Carlo Grossetti, Dadamaino
Milano, Studiotre architettura, Alighiero Boetti Dadamaino
1984
Leonberg, Galerie Beatrix Wilhelm, Dadamaino. Konstellationen. Neue Bilder
Bolzano, Il Sole Galleria d'Arte/Kunstgalerie, Dadamaino
1983
Bergamo, Studio Dossi arte contemporanea, Dadamaino. Costellazioni
Udine, Plurima galleria d'arte, Dadamaino e Enrico Castellani
Milano, Padiglione d'Arte Contemporanea, Dadamaino
1982
Milano, Circolo Culturale Bertolt Brecht, Sette percorsi nell'arte contemporanea. Dadamaino
Viggiù, Museo Butti, Dadamaino
1981
Udine, Plurima galleria d'arte, Dadamaino
Milano, Studio D'ARS, Dadamaino. Piccole storie
Villingen, Galerie Walter Storms, Dadamaino. L'Alfabeto della Mente. I Fatti della Vita. Costellazioni
Norimberga, Schmidtbank-Galerie, Dadamaino. L'Alfabeto della Mente. I Fatti della Vita
Roma, Galleria E Tre, Dadamaino. I fatti della vita
1980
Taos, Maggie Kress Gallery, Dadamaino. I fatti della vita.The facts of the life
Como, rs Centro Serreratti, Dadamaino: iterare il tempo
Venezia, XXXIX Esposizione Internazionale d'Arte La Biennale di Venezia, La Biennale di Venezia. Settore Arti Visive
Monza, In Oltre, Dadamaino. Variazione sul tema
1979
Milano, Studio Carlo Grossetti, I fatti della vita. Dadamaino
Torino, Galleria Martano, Dadamaino. Opere 1958-1979
Genova, Galleria la Polena, Dadamaino
1978
Lodi,Galleria Il Gelso, Dadamaino
Monaco di Baviera, Galerie Walter Storms, Dadamaino
Fara Gera d'Adda, Arte Incontri, Dadamaino
1977
Merate, Studio Casati, Dadamaino
Omegna, Galleria Spriano, Dadamaino
Milano, Salone Annunciata, Dadamaino. Dall'Inconscio razionale all'Alfabeto della mente
1976
Milano, Arte Struktura, Dadamaino. L'inconscio razionale
1975
Milano, Team colore, Dadamaino
Vigevano, Studio V, Inconscio razionale. Dadamaino
Bergamo, Galleria Method, Dadamaino, la ricerca del metodo
Milano, Salone Annunciata, Dadamaino 1959-1975
1974
Como, Centro Serre Ratti, Dadamaino
Novara, Uxa galleria d'arte contemporanea, Dadamaino
Vigevano, Galleria il Nome, Dadamaino
1973
Brescia, Centro d'arte Santelmo, Dadamaino
Karlsruhe, Galerie Ubu, Dadamaino Scaccabarozzi
Venezia, Galleria del Cavallino, Dadamaino
Osnago, Galleria della Cappelletta, Dadamaino
1971
Lutry-Losanna, White Gallery, Dadamaino
Venezia, Galleria Paolo Barozzi, Dadamaino
1970
Milano, Diagramma, Dadamaino
1962
Stoccarda, Galerie Senatore, Maino. Monochrome Malerei
1961
Padova, Gruppo N, Dada Maino
1959
Milano, Galleria del Prisma, Maino
1958
Milano, Galleria dei Bossi